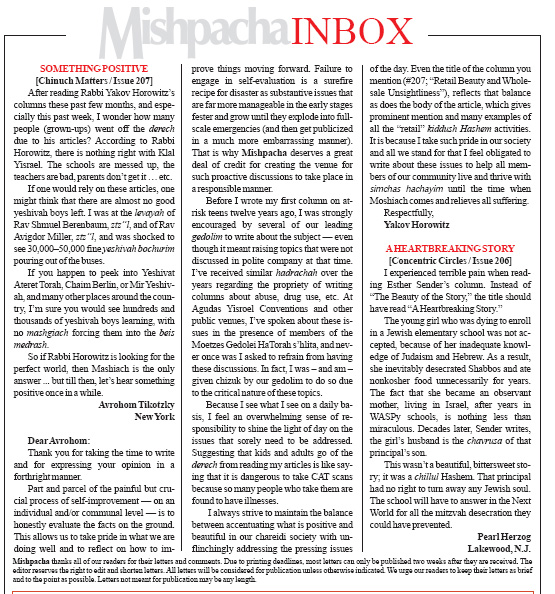 VIN News Editorial
With the astonishingly clueless last week's attack in a letter to the editor of Mishpacha Magazine against the intrepid Rabbi Yacov Horowitz, whose regular contributions to that magazine and whose enlightened leadership will only be truly appreciated in decades to come, an old wisecrack about another trailblazing leader, Rabbi Abraham J. Twerski, M.D., comes to mind: "None of these problems existed in the frum community before—why did Twerski have to come along and create them?"
Rabbi Horowitz stands head and shoulders above the 'hamon am.' It is he who consistently calls for rigorous honesty. It is he who reports the cold, hard facts. And it is he who repeatedly but respectfully demands uncompromising accommodation of the truth.
Rabbi Horowitz, a leader and self-taught expert on the at-risk teen phenomenon and a host of other problems that have crept up in our day, is denial's worst nightmare. And VIN News is fairly outraged at those who insist on keeping their heads snugly, smugly buried in the sand.
Contrary to said attacks' characterizations, Rabbi Yacov Horowitz is no harbinger of gloom and doom. Rather, he is the standard-bearer of something too many of our own dread to face: reality.
The fact is, we as a frum community as a whole we do tremendous amount of 'chesed' as we see in the recent years of the countless 'tezdokah' organizations, in the other hand we have very serious issues on the inside. And for Rabbi Horowitz to have the breathtaking temerity to discuss at-risk teens, abuse of all sorts, family and marital dysfunction, drug use, addiction, illicit behavior and, yes, suicide (which has been ominously rising in our community of late), does not make him a villain. As the good rabbi himself so kindly responded to his detractors, he does not see a frum world in which everything is bad—rather, he merely reports what he knows to be happening from his personal experience in the trenches.
VIN News finds utterly ludicrous the words of this arrow-slinger who opined that since so many thousands of fine Yidden attended the funerals of recently-departed gedolim, therefore all issues seems fine and well after all by 'Klal Yisroel'. Perhaps all physicians should be banned from our communities too? After all, see all the healthy people surrounding us. Does the writer believe that the abused teens from a good family, who has veered off the derech, tattoos and all, to escape their pain, ought to be told, hey Thousands of people attended a rosh yeshiva's levaya so what's your problem, do you think to the broken parents of such a teen would take that for an answer to cure what ails them?
May we suggest to the critics of Rabbi Horowitz and his peers, they should spend a few hours with the 'askonim' who work hard and they should witness by themselves whats going on.
And furthermore, those very same exemplary chesed organizations that said detractor praises were created when men like Rabbi Horowitz stood up and created solutions for unadressed problems.
VIN News shouts out its full-throated acclaim of Rabbi Yacov Horowitz, and extends its unequivocal support to this bold 'Baal Mechanich', a man who has what it takes to do what it takes.
Follow VosIzNeias For Breaking News Updates