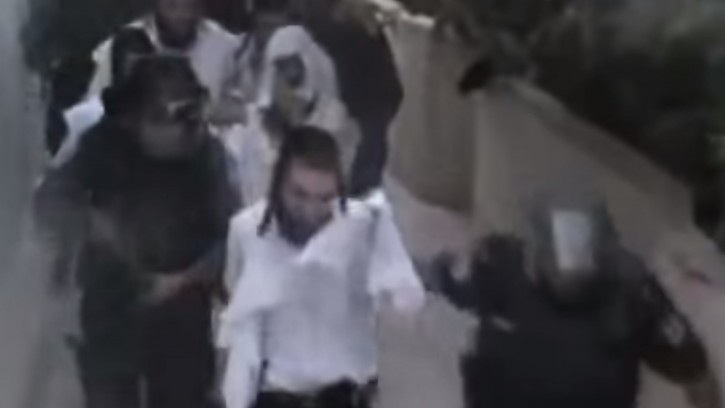 Jerusalem – As the five Chasidic yeshiva students from America who found themselves targets of a murderous Arab mob in Chevron yesterday are recuperating from their terrifying ordeal, video footage has emerged of their dramatic rescue, with one of the group sharing the story of their nightmare visit to Chevron with an Israeli news site.
As previously reported on VIN News, the group was traveling to Me'aras Hamachpeyla in Chevron when they were directed by Waze into a Palestinian neighborhood, where their vehicle was stoned and firebombed by a mob of Palestinians. A Palestinian resident of the area sheltered the young men until they were safely evacuated from the area by Israeli security forces.
"We went yesterday to the Dead Sea and from there we continued in the direction of Me'aras Hamachpeyla so that we could daven there before Rosh Hashana," one of yeshiva students who has not been publicly identified told B'Chadrei Chareidim. Two of the yeshiva students were recent arrivals to Israel, while the other three have been there for a longer period of time.

The group got to Chevron at approximately 6 PM.
"We got to a checkpoint that was manned by security forces that appeared to be Arabic but they didn't prevent us from entering," recalled the yeshiva student. "One other Jewish person came through with us, a Bresolver chosid in his car. We continued to drive and we noticed that people were looking in our direction and were shouting something, but our windows were closed and we didn't hear what they were saying."
The yeshiva students found themselves directed by Waze to a dead end street where they saw a crowd of young people had gathered. They attempted to make a u-turn but found themselves pelted with stones and blocks.
"Within seconds, our windshields were shattered and one of the yeshiva students in our car had been hit in the mouth by a rock," said the yeshiva student. "I tried to open the door but I couldn't and I heard shouts around me of "Jew! Jew!" and other words that I didn't understand. Everything happened within seconds."
The situation turned from desperate to worse as the car's tires were set on fire by the surrounding mob.
"We started to daven and to scream, 'Oy, Basheffer!' I couldn't imagine what was going to happen. We had no hope."
The driver and front seat passengers managed to get their doors open, allowing them to escape, while the three backseat passengers remained trapped in what was soon to be a deadly inferno.
"An Arab who must have been about 25 or 30 approached me and told us to climb out through the windows," said the yeshiva student. "I was very concerned. I didn't know what he wanted to do with us but he managed to persuade me that there was no other option and he helped me climb through the windows."
Freed from the blazing car, the yeshiva students faced yet another threat to their lives: a rioting Palestinian mob that was about to close in on them. Once again, the same Palestinian man came to their aid.
"He shouted something at the group in Arabic, I don't know what, and he told us in Hebrew to run with him to his house," said the yeshiva student. "They were chasing us at first but then they stopped and after a few minutes we got to his house."


The yeshiva students managed to flee the car with nothing but two cell phones.
"While we were running I contacted the Israeli police and I told them, "I am in Chevron, I don't know where exactly but in another five minutes we will be dead. Come get us out of here quickly. There are hundreds of Arabs who want to kill us.' My Hebrew is not good but I told them I was keeping the line open until they got there."
According to the yeshiva student, the person he had called did not appear to be taking the call seriously.
"Maybe he thought we were joking," he said.
The group entered the home of their rescuer, Faiz Abu Hamdi, where they saw another Arab man, who appeared to be about 70, and had a walking stick.
"There were more Palestinians who began surrounding the house," said the yeshiva student. "He went outside and yelled at them. Then he came back in and locked the door."
The yeshiva students were given something to drink and chargers for the two phones they had managed to save.
"The whole time I was still on the line with the police until I was disgusted with them," related the yeshiva student. "I hung up and dialed again but the same thing happened. Finally, the Palestinian man who spoke Hebrew called the police and he told them where his house was."


From their vantage point in the apartment, located high on a hill, the yeshiva students were able to see their vehicle, or more accurately, what was left of it. Among the items lost were passports, money, hats, jackets and two pair of tefillin.
"Everything went up in flames, or maybe they stole some of it," observed the yeshiva student.
The group remained safely ensconced in the home of their rescuer for approximately half an hour. Neither the IDF or the police showed up to assist them.
"Thankfully, Hakadosh Baruch who helped us," said the yeshiva student. "I remember that Rabbi Ben Zion Auiring, the Jerusalem commander of Zaka, was known as someone who helped everyone. I never saw him or spoke to him, but one of our group had eaten by him once on Shabbos and gave me his number. I called him and told him what had happened to us and I begged him to do something because until now no one had done anything to help us get out of Chevron."
Just ten minutes later, a Jewish resident of Kiryat Arba came to inform the group that help was on the way.
"Just three or four minutes after that a large group from the army and the police came to take us out and they moved us to Kiryat Arba."


The yeshiva students contacted their families on their way to Kiryat Arba to let them know that they were unharmed. Upon their arrival in Kiryat Arba they were taken to the home of a paramedic where they were given some food and drinks before they underwent a half hour of questioning by Israeli police who wanted to know why Faiz Abu Hamdi had saved them and any words they may have exchanged.
"We don't know how we merited this kind of salvation," said the yeshiva student. "He never explained why he was doing this great kindness for us. By all rights we should not be among the living now. This is a tremendous miracle."
Three of the boys were taken to Shaarei Tzedek while the other two remained in Kiryat Arba for further investigation before being taken back to Jerusalem. Asked when they planned to bentsh Gomel, the yeshiva students said that they were looking forward to doing so at a gala kiddush planned for this Shabbos, in their honor, by Rabbi Auiring.
"We will have a seudas hodaa in honor of this incredible miracle."
Israeli police defended their response to the yeshiva student's pleas for help, explaining that calls of this nature are investigated scrupulously before sending units into potentially dangerous Palestinian areas.
In an interview with Ynet News, Hamdi shared his version of the story, saying that he saw the potential disaster unfolding outside his home.
"As soon as we saw that a riot was starting outside, my family and I managed to bring them inside and we quickly closed the doors," said Hamdi. "We gave them water to drink and tried to tell them that they were safe but they didn't speak Arabic."
Why did Hamdi risk his own life to save the five young visitors?
"We are all human, first and foremost," said Hamdi. "That's how everyone should behave. We have no problems with the Israelis and we don't want to have any."
Follow VosIzNeias For Breaking News Updates