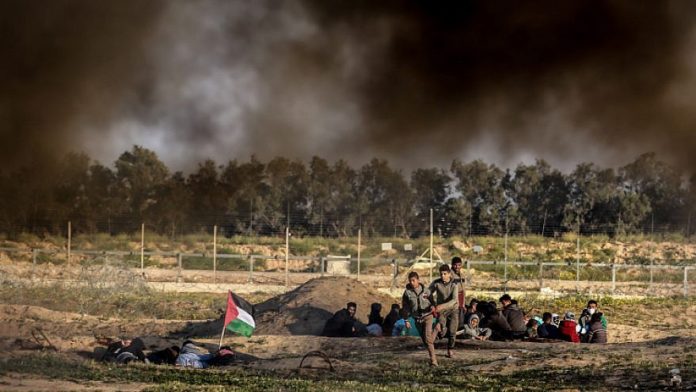 Jerusalem – Two people and 76 others were injured during violent protests on Friday along the Israel-Gaza border for a 73rd consecutive week, this time consisting of 6,200 Palestinians against Israel Defense Forces stationed there.
Join our WhatsApp group
Subscribe to our Daily Roundup Email
Ali Sami Al-Ashqar, 17, was killed east of Jabalia City, while Ashati refugee camp resident Khalid Al-Raba'i, 14, was killed east of Gaza City.
Rioters threw IEDs and Molotov cocktails at IDF troops. Repeatedly, two grenades were hurled at IDF jeeps near Han Younis.
The IDF caught two Palestinians breaching the northern Gaza border.
"Violent demonstrations during which around 6,200 protesters assembled in several locations along the Gaza border fence," said the IDF in a statement. "The demonstrations were of an especially violent nature, which included a large amount of IEDs, grenades and Molotov cocktails being thrown towards IDF forces along the fence."
"There is noticeable damage to the border fence in several locations, and there has been a rising number of attempts to approach the border fence. IDF forces recognized suspects crossing the border all through the strip, each quickly returning to Gazan territory. Two suspects that crossed the border fence in the north of the strip were arrested by IDF forces and brought to interrogation."
Hamas spokesperson Hazem Qassem said, "Violating the blood of peaceful demonstrators in the marches of return and deliberately targeting them is a crime that the occupation bears all its repercussions."
(JNS)
Follow VINnews for Breaking News Updates