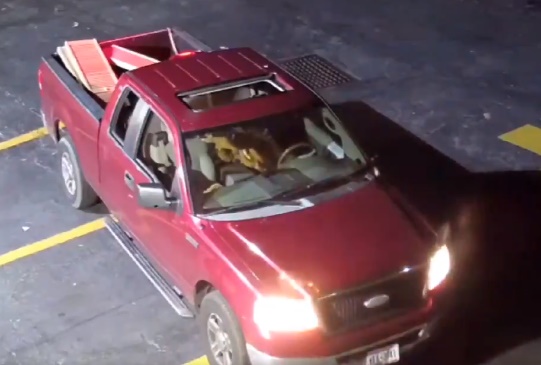 ROCKLAND COUNTY (VINnews/Sandy Eller) – A 22 year old Suffern man was arrested by police after a Friday night shooting spree that shattered windows at a local kosher supermarket and on multiple vehicles.
Surveillance camera footage shows a red pickup truck driving up to an empty Saddle River Road strip mall, with a driver in a yellow jacket firing multiple times from his vehicle at the Newday kosher store.
Friday night a rifle toting thug, drove around @TownofRamapo shooting out windows, @Ramapo_PD detectives are investigating. pic.twitter.com/y9Ap9fox5E

— Rabbi Yisroel Kahan 🇺🇸 (@ykahan) November 8, 2020

Newday manager Pinny Fried said that the ski mask-clad suspect shattered two of the store's large plate glass windows in addition to damaging windows at the adjacent Classic Cleaners, before driving erratically out of the parking lot.
According to Fried, the suspect was spotted sometime after midnight sleeping in his truck at the corner of Saddle River Road and Route 59. Police were called to the scene, confiscating both the pickup and a BB gun after discovering a discrepancy with the vehicle's license plates, letting the driver go.
Newday staff contacted police after viewing the store security footage Saturday night, with officers making the connection between the truck impounded on Friday night and the vehicle in the video.


The Ramapo Police Department said that the suspect is also believed to have shot out the windows of approximately 20 vehicles in Chestnut Ridge and Airmont.
The driver was located with the help of the Clarkstown Police Department and was arrested and charged with two counts of second degree criminal mischief, 18 counts of third degree criminal mischief and reckless endangerment.
The Ramapo Police Department declined to identify the suspect who was released on his own recognizance and is due to appear at justice courts in Airmont and Chestnut Ridge, as well as the Town of Ramapo Justice Court, later in November.
Follow VosIzNeias For Breaking News Updates