JERUSALEM (VINnews) — Samarian police rammed into a car full of settlers Monday morning during a chase following alleged stonethrowing by the settlers. The car flipped over and one of the youths in the car, 16-year-old Ahuvya Sandak from Bat Ayin in Gush Etzion, was killed. The other youths were lightly and moderately injured.
The ramming occurred near the community of Kochav Hashachar, situated on the Alon road east of Ofra and Beit El. The site has been a place of contention between settler youths and police after a recent Supreme Court decision ruled that Mitzpeh Kramim, a settlement authorized by the state near Kochav Hashachar, must be dismantled, despite a new law allowing for the regulation of settlements built on land claimed by Arabs.
Detectives from the Judea and Samaria sector were chasing after a car carrying youths who police claim were throwing stones at Palestinians. Due to the chase, the youths car lost control  and spun off the road but the youths claimed that they were rammed by police and pictures from the police car prove that there had been a ramming incident.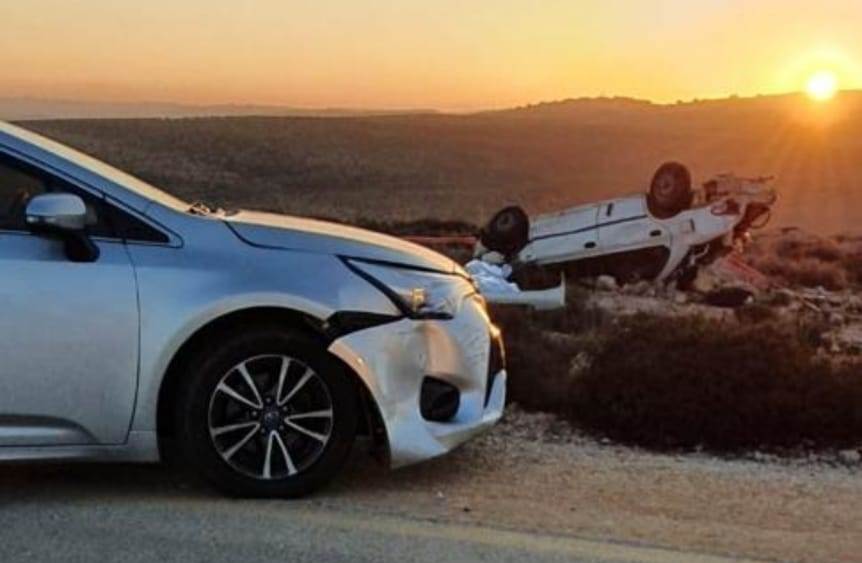 Police car adjacent to overturned settlers car shows signs of ramming 
Four youths were taken to hospital suffering from light to moderate injuries. Sandak, who was trapped under the car, was declared dead at the scene.
Attorney Nati Rom of the Chonenu organization, a non-profit legal aid organization providing legal assistance to soldiers and citizens who are persecuted by the state, met the injured youths who claimed that the police car had rammed them extremely hard causing their car to fly off the road and flip.
Shmuel Meidad, the director of Chonenu said that "the blood is on the hands of the police officers who maim and kill the best of our children. This horror should shake the police and Internal Security ministry to the core, as well as all those who supervise this murderous behavior and fund it with huge budgets."
Police sources said that "in the wake of a report at a police hotline of stones being thrown from a Jewish car towards an Arab car at Michmash junction, a team of detectives identified the car from which the stones were thrown and called on it to stop. The driver started driving wildly despite police calling on him to stop and continued to flee with the detectives in pursuit. Near the Rimonim junction the car overturned and 4 of the passengers were lightly wounded and taken to hospital. One passenger was declared dead at the scene."
Follow VosIzNeias For Breaking News Updates