BOCA RATON (VINnews) — Aaron Silberberg and Devorah Silberberg were married in 2009. They have been separated since December 2018, and they have been civilly divorced since March 2020.
Aaron refuses to give Devorah a get, leaving her an agunah, chained to a dead marriage.
A seruv (order of contempt) was issued against Aaron from the Beth Din of America.
A seruv is a document that indicates that a party has refused to comply with a Jewish court and is held in contempt of court. In the Jewish divorce process, if a husband or wife disobeys the ruling of a Jewish court and refuses to either issue or receive a get, a seruv is issued against them.
Jewish communities traditionally ban recalcitrant individuals who refuse to comply with a reputable Jewish court from entering the synagogue for public prayer and receiving Torah and other community honors. Members of the Jewish community are encouraged to forgo social and business contacts with such recalcitrant individuals in an effort to persuade them to comply with the Jewish courts. It is important to provide support to victims of Get-refusal, and persuade these individuals to appear before and comply with a recognized Jewish court.
Aaron's family:
Father: Mendel Silberberg (works at Mount Sinai)
Mother: Malky Silberberg
Esther Silberberg
Moshe Silberberg
Sara Hinda Rosenthal
Shloimy Silberberg
Chaim Yehuda Silberberg
Nechama Rachwarger
#FreeDevorah
A rally is planned for tomorrow Tuesday March 16th, to pursuade Aaron to give a Get. The rally is endorsed by Rabbi Efrem Goldberg, a well respected Rabbi in Boca Roaton.
Devorah has worked closesly with me and other rabbonim in Boca and elsewhere. We are aware of the entire situation and she has our full support. 2/3

— Rabbi Efrem Goldberg (@RabbiGoldberg) March 14, 2021
I hope and pray that Aharon does the right thing before Tuesday, but if the get is not given by then, please join us for rallies in Boca and Lakewood. You can begin by sharing this post.

In this season of redemption and freedom, let us ensure that nobody remains shackled! 3/3

— Rabbi Efrem Goldberg (@RabbiGoldberg) March 14, 2021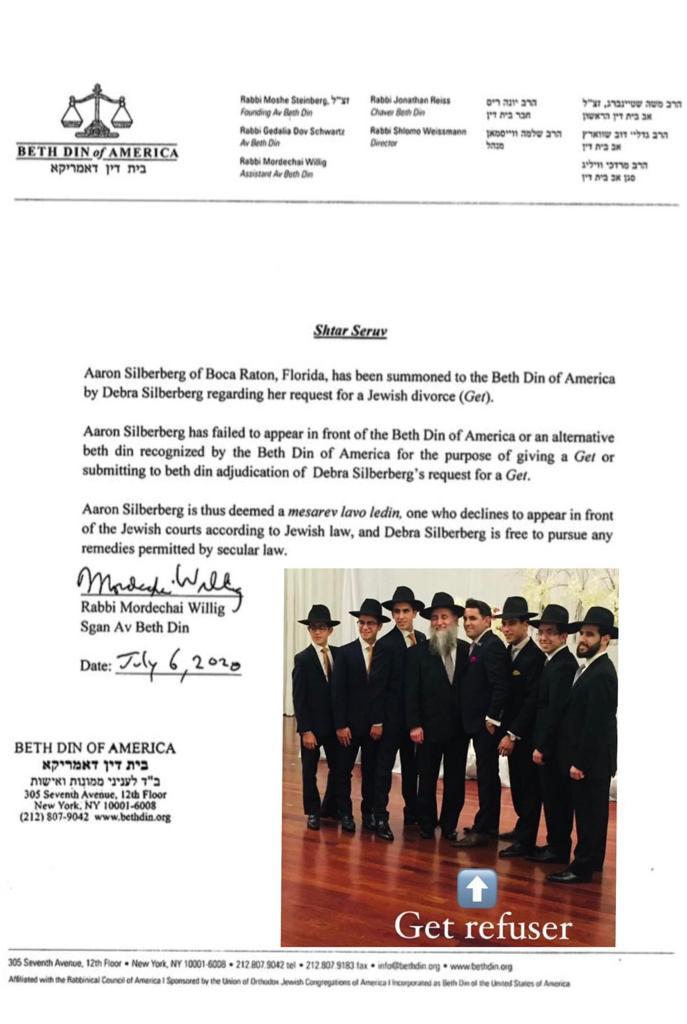 Follow VosIzNeias For Breaking News Updates