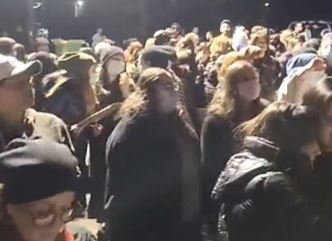 NEW YORK (VINnews) — The Jewish community came out in droves on Sunday evening to protest Dovid Wasserman unashamedly holding his wife Nechama hostage for nearly 7 years.
The rally was held at 4 Hilltop Ln in Monsey, New York in front of the home of Dovid's mother Mrs. Rivka Wasserman, who continues to harbor him even as he is in ongoing violation of a Siruv for keeping Nechama chained to a dead marriage.
Crowds of people arrived in front of the home at 8:30 PM. Immediately the chants were heard, "FREE NECHAMA!" "ABUSER ON THE BLOCK!" "GIVE HER A GET!" "DOMESTIC ABUSE!" "NO GET, NO PEACE!"
They were the pained cries of a community who are deeply hurt to watch their sister stuck in limbo with no hope for freedom.
Dovid himself showed his face briefly, but only to peer out of an upstairs window and snap some pictures, before quickly scurrying away.
Dovid has withheld a Get from his wife Nechama for nearly 7 years now. He has no dispute with Nechama regarding finances or custody. Dovid enjoyed a very generous custody agreement from day one. To this day, Dovid interacts with his children all the time. Nechama also has not ever received a dime of child support, nor is she asking for that now. All she is asking for is the right to move on from a dead marriage, something that Dovid continues to deny her.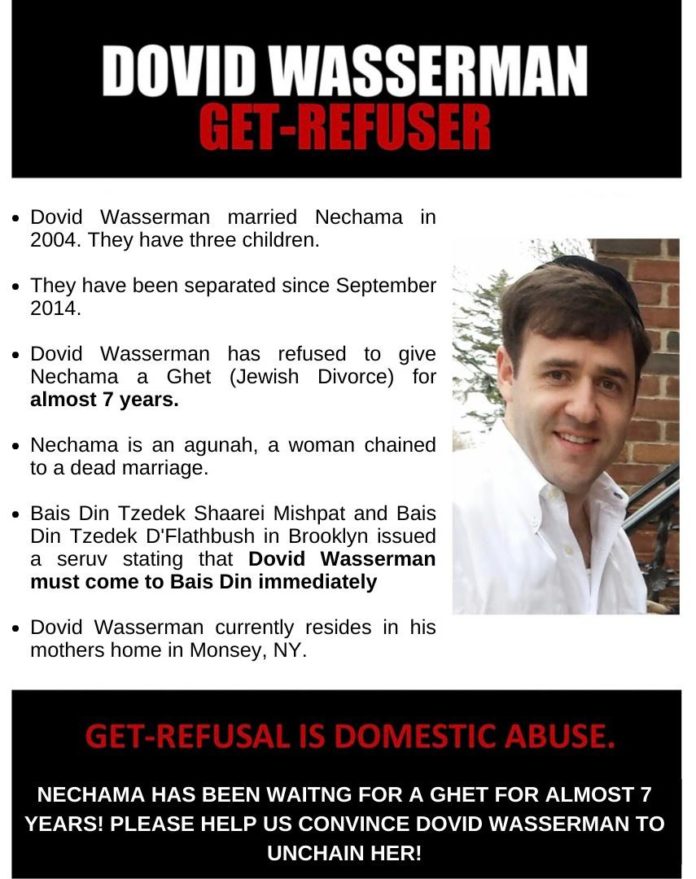 Dovid's Parents:
Pinchos Wasserman
Rivky Wasserman
Dovid's Siblings:
Shaya Wasserman
Shmuly Wasserman
Avi Wasserman
Yocheved Adelman
Sarala Muschel
Chany Barnetsky
Miriam Fruchter
Yanky Wasserman
[Get Refuser Dovid Wasserman Silences Social Media Campaign That Brought Awareness To Plight Of Agunah]
#FreeNechama
View this post on Instagram
Follow VosIzNeias For Breaking News Updates