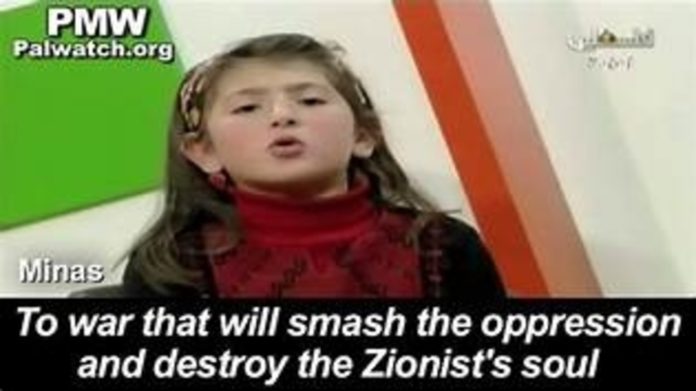 JERUSALEM (VINnews) — Today, Alan and Baila from the VINnews Podcast 'The Definitive Rap' sat down for an exclusive interview with Itamar Marcus, Founder of Palestinian Media Watch, Palwatch.org, an organization that monitors the Palestinian Authority's media, political leaders, and education curriculum.
Join our WhatsApp group
Subscribe to our Daily Roundup Email
In this interview, we have audio and video directly from the Palestinian Authority that states unequivocally that "ALL OF ISRAEL IS OCCUPIED PALESTINE," and that "Jews allied with Nazi Germany to burn Jews for Profit." Other direct quotes from the Palestinian Authority include; "Holocaust was Jews' payment for their Wickedness." "The hatred of the Jews is not due to their religion, but rather due to their social role."
Itamar Marcus has met with European and Western Governments around the world to present direct evidence of the Palestinian agenda, and has succeeded in Governments ending financial support for the PA and their UN-sponsored agencies.
Alan Skorski has been a political activist for almost 40 years. He authored 2 books; Pants on Fire: How Al Franken Lies, Smears, and Deceives and Israel Betrayed: How the Democrats, J Street, and Jewish Left Have Undermined Israel. He has appeared on Fox News, MSNBC, Newsmax, and C-Span.
Baila Sebrow is a journalist, inspirational international speaker, and 5TJT columnist who also hosted numerous radio and Cable TV shows, including Insight/Israel. She is the Founder and President of Neshoma Advocates, Inc., servicing children and families at-risk. Baila is also an acclaimed matchmaker and relationship coach, and president of Baila Sebrow Events, LLC. She has been been featured in various publications, including The New York Times.
PODCAST LISTENERS: Listen to the VINnews podcast on your favorite podcast players! You can subscribe on all of your favorite podcasting platforms and apps:
Jewish Podcast Website: https://jewishpodcasts.fm/vinnews
iTunes | Spotify | Google Podcasts | Stitcher | Podbean |
Amazon
Follow VINnews for Breaking News Updates