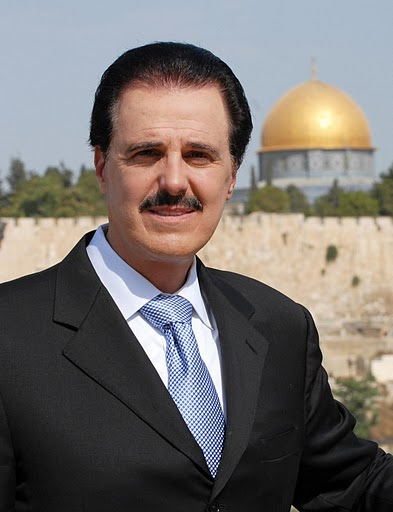 JERUSALEM (VINnews) — The current political shift in Israel has led to a split within the 60 -million-strong Evangelical community in the US, with one prominent leader sharply attacking incoming prime minister Naftali Bennett while others continue to pledge their unswerving support of Israel irrespective of its government.
In a letter sent to Yamina leader Bennett and his partner Yesh Atid leader Yair Lapid, Evangelical leader Mike Evans, founder of the Friends of Zion Heritage Center in Jerusalem and a member of the Jerusalem Prayer Team which has millions of followers in the US, lashed out at Bennett for not sticking with Prime Minister Netanyahu and helping to form a right-wing coalition.
"Don't ever call yourself a defender of Zion. You're not," Evans wrote. "You betrayed the very principles that a generation gave their blood for and died for. You want to be in bed with the Muslim Brotherhood and leftists. God have mercy on your soul. You're a pathetic, bitter little man so obsessed on murdering Netanyahu that you're willing to damage the State of Israel for your worthless cause."
Evans added that he will "fight [Bennett] every step of the way. You have lost the support of Evangelicals 100 percent… We gave you four years of miracles under Donald Trump and this is how you show your appreciation sh***ing on our face. How dare you!"
On Tuesday, Evans is planning to host a Likud-sponsored event in the Knesset to discuss the "actions required for the development and preservation of the important alliance between the State of Israel and the Evangelicals."
"I am on a mission to bring Bibi back, and I believe I am going to succeed," Evans told the Jerusalem Post.
However Evans's opinion is not shared by all Evangelicals and many other influential people in the community have yet to express their opinion about the government being formed. Some will express allegiance with any Israeli government, while others are waiting to see how its policies evolve.
Rev. Johnnie Moore, president of the Congress of Christian Leaders who helped organize the Trump campaign's Evangelical advisory board in 2016, told the Jerusalem Post that while it is true that Evangelicals have a special relationship with Netanyahu, "they will have a good relationship with whatever government exists in Israel going forward." He explained that the focal point for Christians is the Bible and "it is unwise for American Evangelicals to meddle in internal, Israeli politics beyond praising the power of Israel's democracy – and if Evangelicals do it anyhow, then they should be circumspect and respectful.
"Even though most Evangelical leaders have enjoyed a tremendous friendship with Netanyahu which will continue, their friendship with Israel transcends the machinations of Israel's politics and its political parties. Evangelicals will stand with Israel whoever is the prime minister, always," Moore concluded.
"We look forward to a close relationship with all future Israeli governments. As soon as this all settles, I'll, for instance, be on a plane to Israel," he continued. "Until then, I am watching and praying."
Follow VosIzNeias For Breaking News Updates