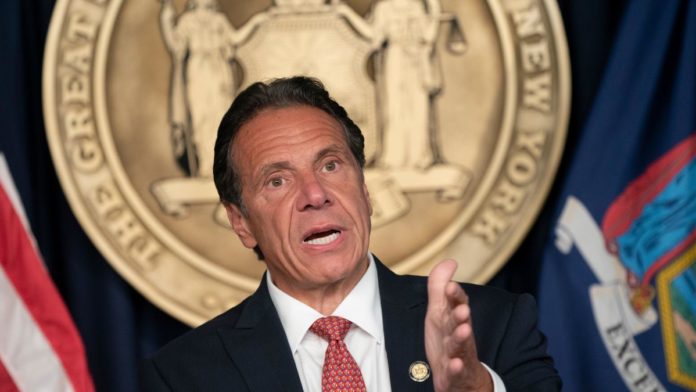 by Oliver Tramonti
Dear Governor,
There is much good that you have done. You showed the world, or New York State, at least, that continuing the notion of runaway property taxes was not the way to go. People needed to live, and the crazy rising rate of property taxes was curbed by you. No one else would have done it or could have done it.
You also, very sensibly capped new spending to two percent of the state budget. Once again, no one else could have done it, but you.
You also chose a wonderful and fantastic Lieutenant Governor, Kathy Hochul. She is capable and professional. She is sensible, a listener, and an innovator.
You have chosen well, according to all accounts.
But the two-week delay in allowing her to take over is, quite frankly, handcuffing her. The state, the nation, is undergoing a new strain of the pandemic and all signs point that it is getting progressively worse. You are shooting your successor in the foot before she can even begin.
Mr. Governor, sir, with apologies to Mr. Cromwell, it is high time for you to put an end to your sitting in Albany.
This two-week delay is unconscionable and will destroy any good that you have done.
History will say that you have dishonored the office of governor by staying in power for the sake of showing your power and by your contempt of all virtue.  It will say that your have defiled the office of governor by your practice of every vice.
The excuse that you have given that the Lt. Governor "needs your assistance to transition" is as empty as your excuses that the eleven women welcomed all that you had done.
If you remain even to the end of the week, the good people of New York State will say that you are a vile man, and an enemy to all good government – a shining example of evil wrapped in immorality inside nastiness.
The people will all ask: Is there a single virtue now remaining within you? Is there one vice you do not possess?
They will say that you have no more religion than their pet dog or cat. They will say that power is your god. They will ask: Is there not a shred of decency within you that will give Kathy Hochul a fighting chance? Do you not care for the good of New York State, which your father had once served so lovingly?
They will label you a sordid molester who has defiled the sacred office of government.
They will say that your desire for power, and your maiming your own heir has grown intolerably odious to the whole nation – even the president of the United States wants you to go now. You were elected here by the people to get grievances redressed, and yet you yourself have become the greatest grievance.
You will have done enormous disservice to the Democratic Party in this state, the party of Italian immigrants, and liberals and you will have caused the rise of another Republican Governor because of your desire to remain in power for the next two weeks and thus maiming your successor.
Your state, your party, therefore calls upon you to put an end today to your tenure as governor. Not in two weeks, not at the end of the week, but now, today.
They will use this delay to prove that you truly enjoy this dominion of power over others.
Pertanto, per l'amor di Dios, parti immediatamente da questo luogo.
Vai, tirati fuori! Fare in fretta! In nome di Dios, vai!
Therefore, for the love of G-d – depart immediately out of this place.
Go, get you out! Make haste! In the name of G-d, go!
Follow VosIzNeias For Breaking News Updates