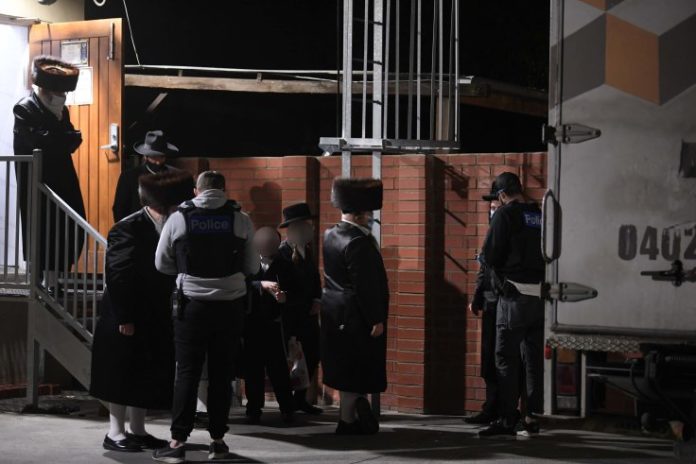 NEW YORK (VINnews) —A group of chareidi worshippers in the Ripponlea district of Melbourne clashed with police who came to enforce the strict local COVID-19 regulations. About 100 worshippers at the Adas Yisrael synagogue had gathered to celebrate Rosh Hashana in violation of regulations which require wearing masks and prohibit any large gatherings.
Police elected not to enter the shul because there were many children present and waited outside for over 12 hours, intending to fine the worshippers as they exited. However another group of chareidim arrived to distract the police and at the same time a number of worshippers fled via windows or neighboring rooftops, according to Assistant Commissioner for the southern metro region Russell Barrett, who said that the congregants had exhibited "pretty appalling behaviour."
In a related incident, a freelance cameraman has been hospitalised for a suspected concussion after allegedly being assaulted in the scuffle outside the Glen Eira Road building. The cameraman — who wishes not to be named — said a lot of the worshippers became "hostile and aggressive" towards the media when they emerged from the synagogue and asked them to stop filming. The cameraman said that he would pursue criminal charges.
Six of the congregants have already been issued with $5452 fines and police are working to identify others who were present.
Police say they've spoken to "a number" of people who attended the Glen Eira Road building, but they believe others who were present have not yet been spoken to by police. "All adults who attended will be issued a penalty," police stressed.
A dozen men who escaped an illegal gathering at a synagogue by climbing onto neighbouring roofs to avoid fines are tonight wanted by police.

The worshippers left children behind as violence erupted outside the #Ripponlea prayer room. @LanaMurphy #9News pic.twitter.com/KT6K7x4Zrz

— 9News Melbourne (@9NewsMelb) September 8, 2021
Local Jewish community leaders  condemned the behavior of the Ripponlea congregants and stressed that Rosh Hashana should be celebrated in people's homes in accordance with COVID-19 restrictions.
Journalist Daniel Cherny tweeted against the "embarrassing scenes tonight on the streets of East St Kilda and Ripponlea", adding that "The delusion and self-entitlement of some members of the Jewish community is mind-boggling."
However other commentators were critical of the response from authorities, saying the tactic of targeting the Jewish community on a holy night does not sit well with them.
"You couldn't make it up. Dan Andrews (the Victorian premier) targets Orthodox Jews in Melbourne – sends Gestapo to surround synagogue and grab Covid-violating worshippers on Rosh Hashana. Yes, you read that right,"  independent journalist Patrick Henningsen wrote.
Follow VosIzNeias For Breaking News Updates