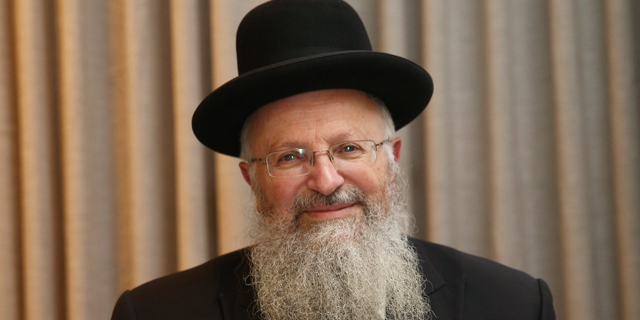 JERUSALEM (VINnews) — Tzfat Chief Rabbi Shmuel Eliyahu was asked what to do with the books of author Chaim Walder at present?
Rabbi Eliyahu answered that the matter has not yet reached Beis Din and therefore there is still a reasonable doubt whether he is guilty. However there is no doubt that there is a serious suspicion of sexual harassment crimes against many women over a long period.
Rabbi Eliyahu therefore said that he personally would not keep Walder's books in his home "despite their many merits." However he added that for those that find it difficult to remove them, they should "place them in a storeroom until the facts become clear."
Rabbi Eliyahu added that keeping the books of one suspected of sexual harassment in the house "conveys to children and the community that we can accomodate such iniquities and if a child reads a book of one suspected of such crimes, this is an educational catastrophe." Rabbi Eliyahu added that he hopes the suspicions are incorrect but "tens of women claim that he harmed them and we cannot ignore their cries."
It should be noted that Rabbi Eliyahu is a member of the Takanah forum, an ad-hoc group of Religious Zionist leaders which has exposed a number of communal leaders who were involved in crimes of sexual harassment.
Earlier today it was reported that the Otiyot childrens' magazine in which Walder had written a weekly column decided to stop running the columns. The magazine stated that "we do not have the ability to clarify if there is any truth in this matter and that is not our role. However as a magazine which maintains moral standards and educates Jewish children, we are obliged to demonstrate extreme care about every word written in the magazine and every person who writes in it."
After considered the matter and discussing with the author, we decided to stop the publication of his stories. We hope and pray that the fog will clear and it will become apparent that the acts insinuated to the author did not in fact occur."
The Yated Neeman newspaper where Walder wrote regular columns for the last three decades has also decided to suspend Walder until further notice. The decision was taken with the authorization of Rabbi Gershon Edelstein, the head of the Degel HaTorah Council of Torah Sages. Sources close to the newspaper said that besides the complaints by various women ,there were also stories which raised "religious concerns" about Walder's behavior.
Walder has also been suspended from his popular radio show on the Kol Chai radio channel until the matter is investigated.
Walder has categorically denied all of the accusations, according to his lawyer: "These are false claims based on a blatant lie which is effectively a blood libel. The claims are not even worthy of discussion as they have no relation to reality. Mr. Walder is an author and educational advisor who established the Center for Child and Family in Bnei Brak and for decades has devoted his life to promoting, caring and maintaining the welfare of children and their rights in the chareidi sector and in the general sector. For his unusual devotion to the welfare of children he received the prize of "Protector of Children" from the prime minister.
"For years Walder coordinated the fight for children suffering from violence and abuse and as a result of this various people made it their goal to harm him. We have in our hands proof of some attempts to frame our client. As part of his fight to clear his name, our client underwent a polygraph test, denied the claims and as expected was found to be speaking the truth on all questions. Our client is determined not to allow his name to be besmirched at all and will fight for his good name with all of the legal methods at his disposal."
Follow VosIzNeias For Breaking News Updates