JERUSALEM (VINnews) — In a terrible road accident which occured a short time before Shabbat on road 465 in Samaria, two young children were killed and their parents badly injured.
Click to get Text Message Updates right to your phone
Join our WhatsApp group
The family were travelling from the community of Bruchin westwards towards Modiin Illit when a Palestinian car crossed a double white line and the family's car crashed into it. 3-year-old Tov-Roi Meoded was killed instantly and her sister Haleli (6) died after Shabbat. The parents, Yaniv ben Ahuva and Hodaya bat Esther were hospitalized in Beilinson hospital in very grave condition. Hodaya was pregnant but her fetus did not survive the collision.
Two Palestinian Arabs were also killed in the collision.
The family had recently moved from Rehovot to Bruchin and both places were plunged into mourning by the tragic news.
Traffic investigators said that the Palestinian car made an illegal u-turn and crossed a white line and a car coming from the opposite direction collided with it. The car had been officially taken off the road and designated for scrap.
Halleli, Tov-Roi and the unborn child, who was named Malachi by the grandparents, were buried in Rehovot on Motzaei Shabbat. Their grandfather eulogized them:
"Today for the first time it was difficult for me to say the Shacharit prayer. How can one say things when two innocent pure grandchildren are here in front of us? The heart is torn and cannot comprehend such a tragedy. The evil continued on Shabbat, took their lives and injured Yaniv and Hodaya so grievously, let us pray for their recovery. These children were so inquisitive, Halleli had an impish smile and Tovi would laugh so freely! G-d gave and G-d took from us."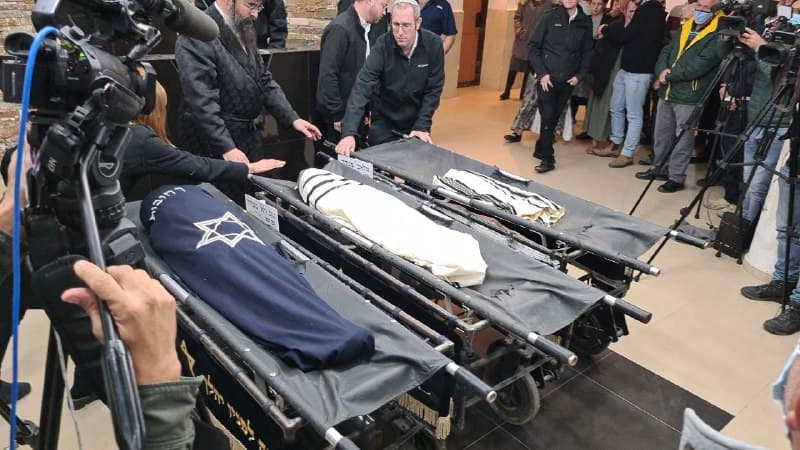 Follow VosIzNeias For Breaking News Updates