LUBLIN (VINnews) Harrowing photos have surfaced that reveal a very chilling and candid perspective on Jewish life during the Holocaust in Poland.
Join our WhatsApp group
The never-before-seen images were taken between 1941-42 in Lublin by a 22-year-old Wehrmacht soldier.
They will be featured in a gallery after being donated by the unnamed soldier's grandson.
In some images, the city's Jewish population are seen before they underwent the unspeakable horror of being executed in gas chambers.
A photo of a Jewish boy shows him standing barefoot and wearing a dog-eared coat.
Lublin is known for its rich and robust pre-war Jewish history. Established in March 1941, the Lublin Ghetto was one of the first to be dismantled after the Nazi invastion of Poland, after which a huge amount of Jews were sent to death camps.
The collection was found by the Wehrmacht soldier's grandson, Andreas Rump, hidden inside a shoebox.
Mr Rump told local media: 'I didn't know why my grandfather photographed these people or even had these pictures.
'After the war he kept them in the same box as memories from family events. They were mixed up with photos from my mother's first communion and photos from Christmas, weddings and wedding receptions.
'It was a real mess in there. When, as a child, I was looking through family photos, I also saw these ones from the war.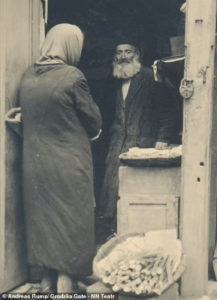 Follow VosIzNeias For Breaking News Updates