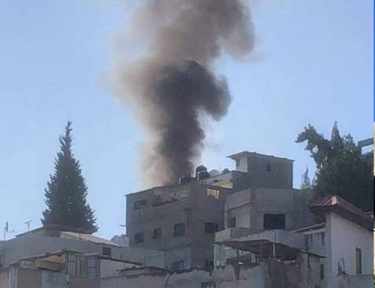 JERUSALEM (VINnews) — The IDF launched an attack Wednesday morning on the Jenin home of the family of the terrorist who perpetrated a deadly shooting attack in Tel Aviv earlier this year, according to Palestinian media reports.
Footage published by Palestinian media outlets showed smoke rising from a building in Jenin, after IDF troops reportedly fired small missiles at the home as part of a military tactic known as "pressure cooker."
The home reportedly belonged to the family of Ra'ad Hazem, the terrorist who opened fire on April 7 on patrons at the Ilka bar on Dizengoff street in Tel Aviv, killing three people. Hazem was later eliminated after he was caught in Jaffa and opened fire on security forces who came to arrest him after feigning to surrender to them. Earlier this month, the IDF demolished Hazem's apartment in the Jenin refugee camp.
The IDF confirmed that Hazem's brother Abed had been killed in the Wednesday operation, as well as another terrorist who had fired at IDF forces. Nine other people were wounded, with two listed in critical condition. Hazem's father Fathi as well as two of his brothers had been wanted for questioning since the attack. Fathi Hazem publicly praised his son's actions following the deadly assault on the busy bar.
תיעוד מחיסול מחבל ב-ג'נין, מחבל ימ"ש שיירה על כוחותינו היקרים קיבל כדור בראש pic.twitter.com/GkDNBVSOw4

— בז news (@1717Bazz) September 28, 2022
Terrorist fires at IDF troops and is shot in the head (Twitter image)
A local wing of the Palestinian Islamic Jihad terror group said its members opened fire at troops operating near the Hazem family home. Israeli media reports say that the terrorist killed during the shootout with IDF soldiers is a member of Fatah's security police.
The IDF operation came after a period of escalating violence in Judea and Samaria, with numerous attacks on IDF troops and residents in the region. On Tuesday night, Israeli troops came under gunfire near the Palestinian town of Asira ash-Shamaliya during "routine activity."
In recent months Israeli troops have also repeatedly come under gunfire during nightly raids against terror cells located in Palestinian cities in Judea and Samaria.
Follow VosIzNeias For Breaking News Updates