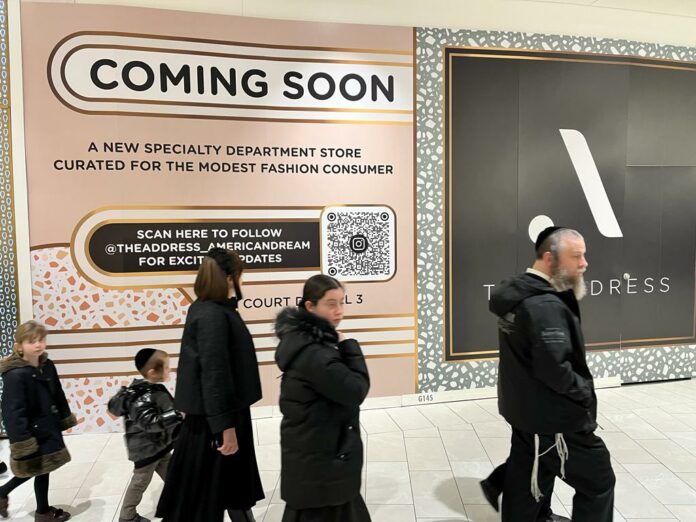 NEW JERSEY (VINnews/Sandyeller) – Buoyed by the number of Orthodox Jewish visitors that have come to enjoy its stores, parks and other attractions, the management at the American Dream shopping and entertainment complex are putting the finishing touches on what it hopes will be another draw – a 34,000 square foot department store dedicated to modest attire.
The ADdress will be located next to Primark on Level 3 of American Dream and will offer women's and children's clothing.
In addition to featuring fashion brands such as Lil Legs, The Shell Station, BYRD New York, Malka Majesty Gowns and House of Lancry, The ADdress will also have ArtScroll books and a wide range of acrylic items from the Waterdale Collection.
For many of the brands that will be part of The ADdress, it will be their first opportunity to sell their products in a brick and mortar store.
"Many brands believe that independence is key to their success and the mall model goes against that, but we think about the consumer, and do they want a single store or a place that has 35 different brands," Devorah Kaplan, head of brand acquisition for The Address, told VIN News. "People come from all over the world to this area and they spend days running around doing their shopping. We have it all at The ADdress."
The ADdress will celebrate its grand opening on February 14th, which will include an opportunity to meet with many of the brand owners. The store's next phase is expected to open at the end of the summer, and will include an additional 24,000 square feet of retail space on a second level featuring men's clothing and bridal wear.
Located within an hour of the Jewish communities of New York City, Lakewood, Monsey and Monroe, American Dream's management believes that catering to the Orthodox market is a sound business decision.
Monsey Trails will offer once-a-day round trip service from Monsey, New Square, Williamsburg and Borough Park to the complex, which has multiple kosher eateries, including cholov yisroel fare, with a kosher food court slated to open in the near future.
Follow VosIzNeias For Breaking News Updates