NEW YORK (VINnews) — A "Day of Hate" is being planned for this Shabbos by a group of Neo-Nazi antisemites. It was first reported by the Chicago Police Department to its local Jewish community, and now authorities in New York and Florida are warning their Jewish communities to be vigilant.
Last month, an anti-Semitic group based in Iowa designated Feb. 25 as a "day of hate," and other white supremacist and hate groups have since said they plan to participate, according to David Goldenberg, the Midwest regional director of the Anti-Defamation League. One of the organizations behind the plot if the Goyim Defense League (GDL).
Chicago police have been urging Jewish communities to be extra vigilant. "At this time, there is no actionable intelligence," the department said in a statement. "We continue to actively monitor the situation."
The NYPD has now also released a similar notice to the Chicago PD, warning New York Jewish communities to be extremely vigilant and report any suspicious activity.
In addition, the O-U has sent a message to its network of shuls, encouraging them to be vigilant and stay in contact with local law enforcement to request enhanced security. They said they have been in contact with the DHS and FBI about the threats.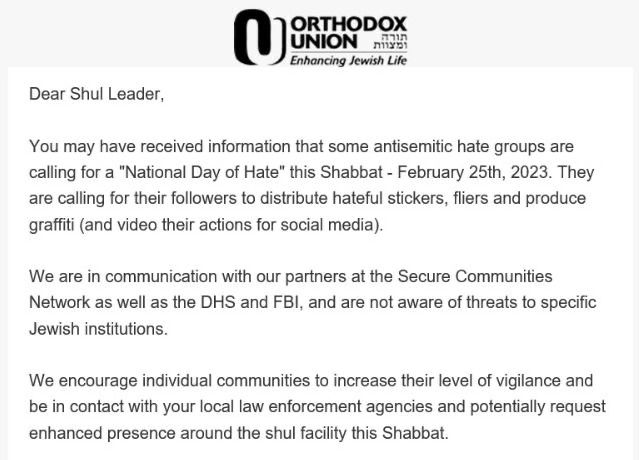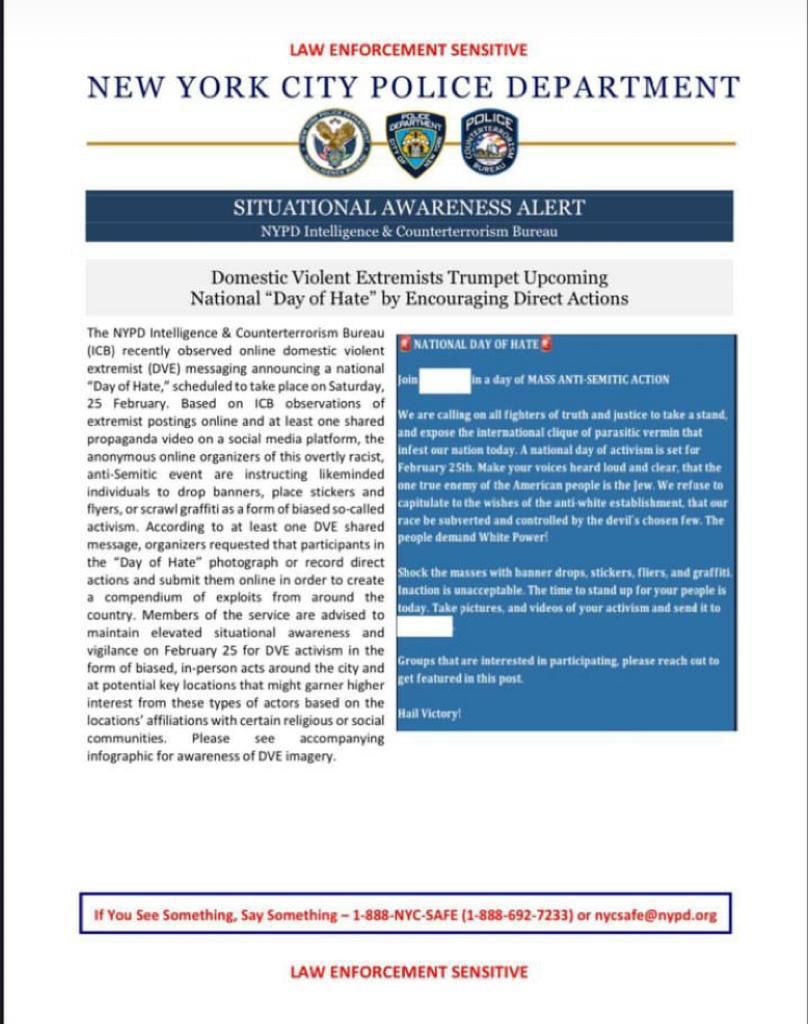 In addition, police in South Florida sent this message to Jewish residents: "Over the past several weeks a handful of known antisemitic, white supremacist, and neo-Nazi groups have encouraged their followers to participate in a "National Day of Hate" this coming Saturday, Feb. 25. The event is meant as a call to action for followers to conduct in-person propaganda efforts across the US. The antisemitic activity will likely include in-person demonstrations, flyering efforts, stickering efforts, banner drops, and vandalism.
"Two of the organizations behind this initiative – GDL and NSM – have a footprint in South Florida. At this time, we are not aware of any specific, credible threats of violence to the Jewish community as it pertains to this report; however, we encourage you to be vigilant for non-violent in-person demonstrations, flyering, stickering, laser projections and/or banner drops."
According to one report, organizers are asking antisemites who engage in the "Day of Hate" to post their activity online, in order to create a compendium of the evil behavior and spread the hate.
Follow VosIzNeias For Breaking News Updates