JERUSALEM (VINnews) — Israeli actor Haim Topol, who was most famously known for his depiction of Tevye both in the stage and movie productions of Fiddler On The Roof, has passed away at the age of 87.
Topol was diagnosed with Alzheimer's disease several years ago, and his condition deteriorated in recent days until he passed away Thursday morning surrounded by family and friends.
Born on September 9, 1935 in Tel Aviv, Topol began his acting career during his Israeli army service in the Nahal entertainment troupe, and later toured Israel with kibbutz theatre and satirical theatre companies. He was a co-founder of the Haifa Theatre. He became famous for playing the character of Salah Shabati in a movie describing an immigrant from Yemen who acclimatizes to Israeli society in the 1950's.
Topol went on to appear in more than 30 films in Israel and the United States, winning a Golden Globe for Best Actor.
He was nominated for an Academy Award for Best Actor for his 1971 film portrayal of Tevye, and was nominated for a Tony Award for Best Actor for a 1991 Broadway revival of Fiddler on the Roof.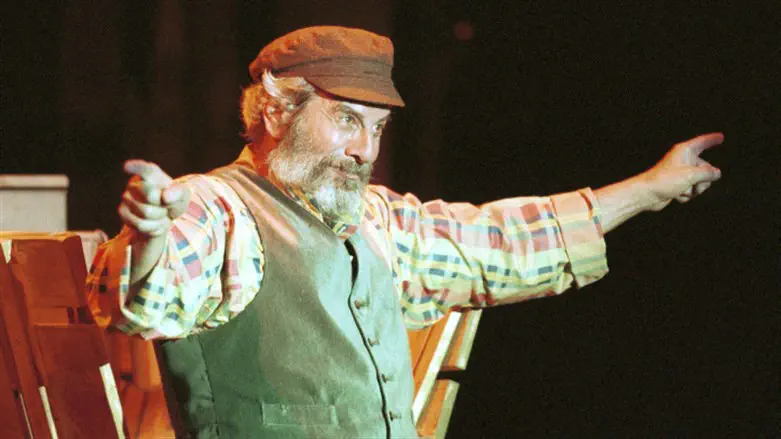 Haim Topol as Tevye
In 2015 he was awarded the Israel Prize for lifetime achievement.
Topol had a warm spot for his Jewish roots and, having received a traditional education continued to study Gemara all of his life every week as well as putting on Tefillin daily.
In an interview with the Hidabrut site seven years ago, Topol said that "I study gemara once a week for the last 45 years, on Thursdays. I learned in the Tahcemoni high school in Te Aviv and had an exceptional teacher for Talmud. After my army service I went back to studying Talmud. Some tractates I finished more than twice but there are parts I haven't learned. I study with chavrutut, who are a hundred times better than me."
In recent years Topol served as chairman of the board of the Jordan Valley village, a free, year-round, overnight camp for children living with life-limiting conditions (serious illnesses, chronic illnesses, genetic diseases, special needs). Topol had enlisted the assistance of actor Paul Newman who founded the SeriousFun Children's Network of camps for seriously ill children around the world and the $30-million-dollar village opened in 2012.
Prime Minister Binyamin Netanyahu eulogized Topol after his passing:
"My wife Sara and I, like all Israeli citizens, with deep sorrow, are saying farewell to our dear and beloved Chaim Topol, who was one of the State of Israel's greatest artists. He greatly loved the land of Israel, and the people of Israel loved him in return.
"Topol was a multi-faceted artist, with great charisma and energy. He proudly represented Israel around the world and received international recognition of a kind that few have received. His plays and films were extraordinary experiences. Thanks to his broad smile, warm voice and unique sense of humor, he was a popular figure who conquered the heart of the people.
"Topol had a huge heart. He fervently supported the justice of Israel's path and enthusiastically believed in the Zionist vision. He expressed these views openly, around the world. At the same time, Topol helped sick and special needs children, out of the deep desire to contribute to the resilience of Israeli society."
Follow VosIzNeias For Breaking News Updates