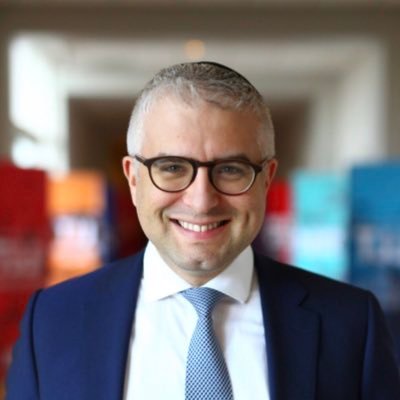 NEW YORK (Yaakov M / VINnews Op-Ed) — Frum podcast host Dovid Bashevkin recently tweeted about Elizabeth Holmes, the disgraced former CEO of Theranos.
R' Bashevkin suggested that as a 'non-violent' offender, Holmes should not be placed behind bars.
Rather, she should be placed somewhere "more productive".
He wrote, "I am struggling with the understanding the point of prison for non-violent offenders. What she did is absolutely wrong. She was found guilty in court. But isn't there something aside from prison that society could impose on these sort of people that would be more productive?
While I have a lot of respect for R' Bashevkin and greatly admire his sincerity, I respectfully disagree with his sentiment. The harm, pain, and possible death caused by 'non-violent' Holmes was far worse than the crimes of many violent offenders.
Her millions of fake blood tests likely killed people, and if not, it was pure luck. She also has been blamed for the suicide of a top scientist prior to testifying about Theranos, after being placed under enormous pressure by Holmes to cover up her illegal practices.
Holmes is pure evil. The fact that she did not use a gun or knife is completely irrelevant.
She has blood on her hands (no pun intended), and she stole hundreds of millions of dollars from innocent investors who believed in her "miracle product".
This wasn't just business fraud: she lied about the potential of a health-related technology. People could have died by making the wrong medical decisions.

The only real punishment left for society's capitalist sociopaths is time in the clink. She should spend every minute…

— Antonio García Martínez (agm.eth) (@antoniogm) May 7, 2023
Would Bashevkin say that non-violent Bernie Madoff should not have been imprisoned? Or Kenneth Lay, CEO of Enron, who stole the life savings of hundreds of middle-class employees? Or the executives of Bridgestone/Firestone whose tires caused people to die? Or Andrew Cuomo, who (allegedly) caused thousands of seniors to die in non-violent fashion? (Although he got away with it, I'm sure many would agree that he belongs in prison.)
If Elizabeth Holmes were to avoid prison and be sent somewhere more "productive", it would teach the next con artist that they can steal money, develop fake medical devices, and endanger lives, and even if they get caught, they need not worry about the consequences.
Bad lesson.
She created FAKE blood test results. Her tests (available at Walgreen's) produced random and false results for years. People likely died because of her.

Plus she duped investors out of hundreds of millions of dollars. They are not all Rupert Murdoch. She is pure evil.

— Yaakov M (@yaakovmshow) May 7, 2023
Would you say the same thing about Bernie Madoff? Ken Lay?

They were 'non-violent offenders'. Hundreds of people lost their life savings because of them.

— Yaakov M (@yaakovmshow) May 7, 2023
In addition to allowing millions of fake blood tests to be administered, Holmes cheated investors out of hundreds of millions of dollars. Now, some may argue that since these investors were wealthy, what harm was done?
I disagree. When hundreds of millions in investment money is wasted on a fake product, the losses are immeasurable. People lose their life savings. In addition, other life-saving projects are not funded, because the money was stolen by Holmes and Theranos.
Madoff was non violent were we supposed to say take a course on not stealing and go on with your life?

— AW (@ariwercz) May 7, 2023
Her failed blood tests (which she knew did not work) – likely contributed to someone's direct death. I believe more than 3 million tests were conducted. So it's not just fraud – it has implications of harm.

— Thinking fast and slow (@ElleMandell) May 7, 2023
It is impossible to measure the losses incurred due to Holmes defrauding investors, but it is highly plausible that many lives were lost, because hundreds of millions of equity capital was wasted on a garbage product.
I don't know if Bashevkin read the book "Bad Blood" cover to cover as I did. (After all, he's been known to read books on Shabbos so perhaps that was one of them). It is a riveting, shocking depiction of how Holmes, a narcissistic sociopath, defrauded some of the country's shrewdest investors, including Rupert Murdoch, out of hundreds of millions, and nearly got away with it. She also persuaded Walgreen's and the US military that her fake product was legit.
How much money do you have to steal to merit prison? How about lying about blood tests that could easily have cost people's lives (and may have in fact done so)? How about driving employees to suicide due to her sociopathy (actually happened)?

— 425lb AUM (@DeadLiftCapital) May 7, 2023
For over a decade, she produced "miracle" blood test devices, which supposedly could detect dozens of conditions, including some cancers, with just a few drops of blood. Theranos promised that its 'Edison' test could detect conditions such as cancer and diabetes quickly without the hassle of needles. Bigwigs from Henry Kissinger to general James Mattis sat on the board of directors, which added to her credibility.
Yet it was all an elaborate sham. She faked the test results. Only a few insiders were aware that the tests did not work, and essentially yielded different, almost random results every time .
By 2016, Holmes was exposed as a fake. The technology she touted didn't work at all, and by 2018 the company had collapsed. Holmes was convicted and sentenced to 11 years in prison.
But the damage was done. Theranos tests were available at local Walgreen's stores as well as other locations. People innocently took the tests and assumed the results were accurate. It is virtually impossible to know how many people became ill due to false results, had conditions which went untreated, or took medications unnecessarily.
In the trial against Holmes in 2021, three different witnesses testified about allegedly getting false medical results from Theranos devices.
One woman said she got a result that indicated she was having a miscarriage when in fact her pregnancy was perfectly healthy, according to two blood tests through a different lab after getting the Theranos diagnosis.
Another woman alleged that a Theranos test misdiagnosed her as having HIV antibodies, but in two tests after that through different labs she tested negative for HIV.
A man alleged that a 2015 blood test he'd taken through Theranos told him that his blood wasn't clotting like normal, and he stopped taking his blood thinners as a result of the false diagnosis. However the results were fake.
One of the above patients also testified that she called Theranos to try to ask about her results and when she got someone from customer service on the phone, they told her they "couldn't transfer me and that was about it." She couldn't get a real doctor or scientist on the phone.
I wonder if Rabbi Bashevkin has perhaps been influenced by the woke mindset that prison is often not warranted, even for evil criminals.
Whether someone is violent or not is irrelevant. If you cause possible deaths or steal millions of dollars, you need to suffer.
Society cannot function any other way.
THE VIEWS EXPRESSED DO NOT NECESSARILY REFLECT THOSE OF VIN NEWS. 
Yaakov M is the Charedi Sean Hannity.
His columns have been featured in Newsmax and many other sites. He's hosted a podcast for 15 years, studied in Kollel 14 years, was a Bais Medrash Rebbi over a decade, and obtained smicha from a top Rosh Yeshiva. (Opinion do not necessarily reflect Daas Torah.) If you're tired of boring or fake news, you will love this podcast.
LISTEN TO THE LATEST EPISODE OF THE YAAKOV M SHOW:
Follow VINnews for Breaking News Updates