JERUSALEM (VINnews) — Israeli TV presenter and model Corrin Gideon responded to the claims by fellow presenter (and former model) Galit Gutman on Israel TV's channel 12 that "The chareidim are sucking our blood", a claim which has led to many calls for her dismissal despite her apologizing for her statement.
Gideon is a secular Israeli who married a former chareidi from a prominent chareidi family, Chili Sorotzkin, a nephew of the late Pittsburger Rebbe. Despite maintaining her secular lifestyle, Gideon says that she is respected by the family and is raising their two children to religious education. Her husband has said that he keeps kosher and Shabbat and places Tefillin daily, although he does not maintain the lifestyle of his siblings.
Gideon wrote a post stating that "sometimes I feel that people don't hear enough about chareidim like in my family so I'll explain myself: Chili has 14 brothers and sisters, all of whom work and pay taxes. Their spouses also work- sounds good? Two of my brother-in-laws work in the defense establishment in such classified positions that I have no idea what they do -and they are chareidi.
"Our family according to statistics are the majority in the chareidi community. I admit that I was willing to believe all kinds of things in the past. At best I would call it prejudice, at worst racism. I don't take responsibility away from the politicians (chareidi ones as well), who can gain seats from this type of speech, but it was important for me to lay out the facts and the difference between them and prejudices, firstly for the sake of my family."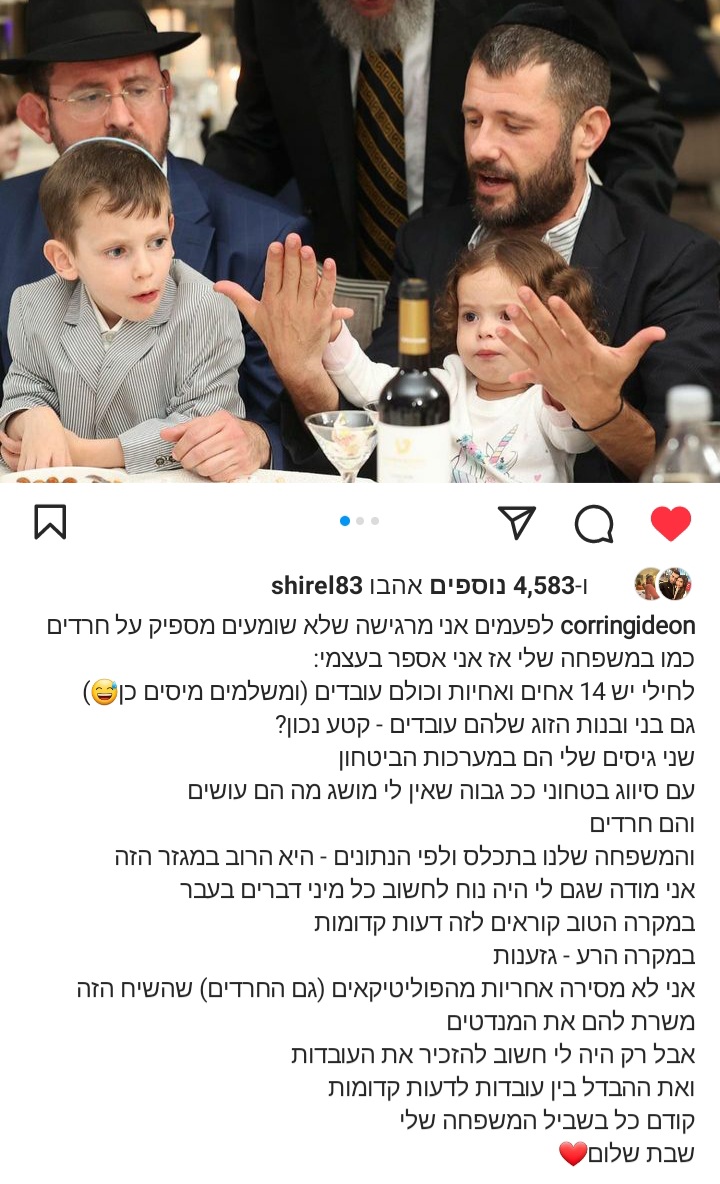 Follow VINnews for Breaking News Updates