JERUSALEM (VINnews) — Yehuda Fuchs, Commander of the IDF's Central Command, signed an order allowing Israelis to stay in the site of the destroyed town of Homesh in northern Samaria. The new directive is based on a law passed in the Knesset two months ago cancelling the Disengagement Law on Northern Samaria. The directive will enable the yeshiva to continue its studies in Chomesh and paves the way for the reestablishment of the community destroyed in 2005.
Join our WhatsApp group
Subscribe to our Daily Roundup Email
Finance Minister Bezalel Smotrich (Religious Zionism) praised the move, saying, "We promised to recognize the continuation of Torah study in the Yeshiva in Homesh and we are keeping it."
"Following the cancellation of the law of secession in the Knesset, the commanding general in the region signed a parallel order to cancel the prohibition against entering Homesh and to annex the settlement to the territory of the Samaria Regional Council for the purpose of replanning the yeshiva. I thank Defense Minister Yoav Gallant for his cooperation in normalizing the yeshiva."
After the signing of the directive the Chomesh yeshiva will be moved a few meters away from its current location so that it is situated on State land and not disputed land as in its previous location.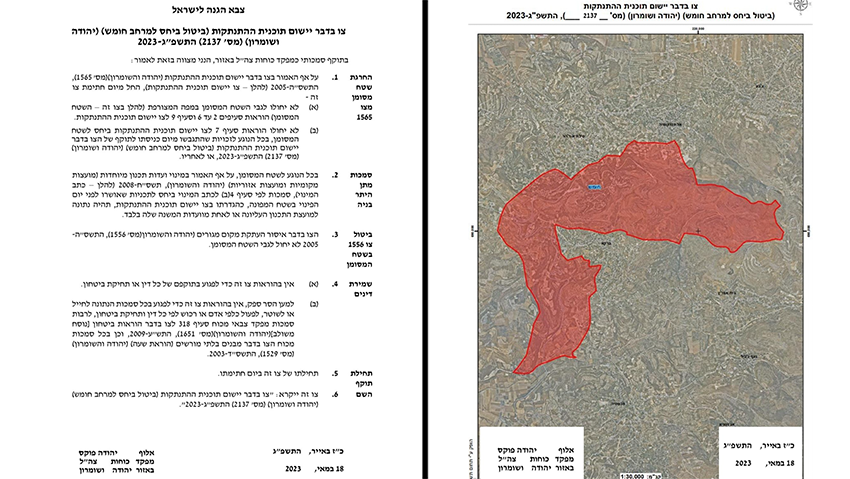 IDF directive
Despite the directive of the OC Central Command, there is still no directive enabling the reestablishment of the other three destroyed communities Sa-Nur, Ganim and Kadim which are located very close to Jenin. The IDF is concerned that these places would present significant security complications due to their being surrounded by hostile Arab villages.
Follow VINnews for Breaking News Updates