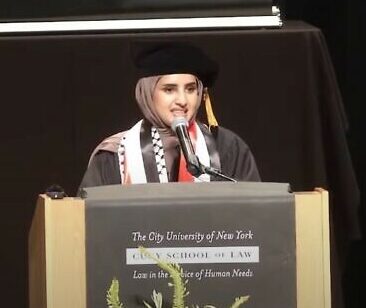 NEW YORK (Yaakov M / VINnews) — CUNY's Law School has finally released a video of a commencement address in which vicious lies were told about Israel, after the school buried the shocking footage for two weeks.
The speaker, a known antisemitic BDS supporter, accused Israel of "indiscriminate" murder, encouraging "lynch mobs" and praised resistance to "Zionism around the world." Her words were greeted with thunderous applause.
The school, which has a long history of antisemitism, had hidden the video after coming under criticism for the ceremony.
This was the second straight year that the law school's commencement speaker dedicated much of their address to vicious anti-Israel rhetoric.
The commencement ceremony on May 12 featured anti-Israel activist Fatima Mohammed as keynote speaker. The commencement speaker is elected by the student body.
Mohammad repeatedly attacked Israel with heinous lies, propaganda and talking points, linking it to white supremacy, oppression, colonialism and violence.
"This is the law school that passed and endorsed BDS on a student and faculty level, recognizing that absent a critical imperialism settler colonialism lens, our work and the school's mission statement is void of value as Israel continues to indiscriminately rain bullets and bombs on worshipers, murdering the old, the young, attacking the funerals and graveyards as it encourages lynch mobs," she said.
"We are the student body and faculty that fought back when the investor-focused administration attempted to cross the BDS picket line, saying loud and clear that Palestine can no longer be the exception to our pursuit of justice, that our morality will not be purchased by investors," she said.
Mohammad also said that CUNY "continues to train IDF soldiers" to carry out "violence globally," blaming the school system for being "committed to its donors, not to its students."
She repeatedly linked racism against Black Americans to Israel, and said Senator Chuck Schumer had "dignified" the killing of Jordan Neely.
"May we rejoice in the corners of our New York City bedroom apartments and dining tables, may it be fuel for the fight against capitalism, racism, imperialism, and Zionism around the world," she said in closing.
Mohammed is a member of CUNY Law's chapter of Students for Justice in Palestine.
Last year, CUNY Law School passed a resolution decrying what it falsely called the "unceasing military occupation and colonization of Palestine by the Israeli state" as "both settler colonialism and structural racism, supported politically, financially, and militarily by the US."
LISTEN TO THE LATEST EPISODE OF THE YAAKOV M SHOW:
Follow VINnews for Breaking News Updates