JERUSALEM (VINnews) — Among the IDF's elite and prestigious units, the submarine units are among the toughest and most challenging to gain entry to. Cadets must be extremely capable, motivated, strong and resilient and many don't make it through the grueling courses.
E (name withheld for security reasons) is a chareidi from Bnei Brak. Growing up in a closed environment, E excelled at his Torah studies but also studied martial arts.
"Something in me said that I should investigate other worlds," E said in a Makor Rishon interview, while stressing that he remains chareidi. "I didn't study core curriculum and didn't matriculate, so I searched how to complete them. I registered for external matriculation and it went very well, I finished with a full matriculation and very high grades. At the age of 19 I started investigating conscription to the IDF. My family supported me, realizing that I needed to find self-fulfillment.'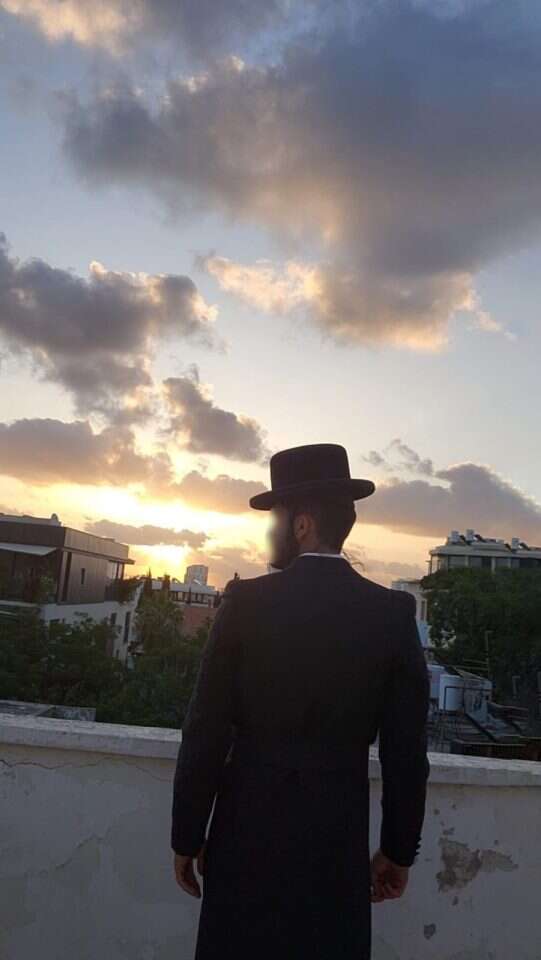 E, prior to IDF enlistment
E's achievements caught the eye of the IDF's manpower directorate and he was invited to one of the most demanding entry courses in the IDF.
"I realized that it would be a special and covert service involving personal development and unceasing studies and that attracted me," E says, stating that when he was told about sailing and submarine courses, he knew nothing about the subject. "I didn't even know that submarines were associated with the IDF."
E stood out both as a chareidi and as older than his peers. He was assigned to a group of 13 religious Zionist recruits and they went to a series of sorting and processing courses, in which E excelled.
"I was in good shape due to the martial arts course. There were gaps but I could make them up. During the courses I realized that the service would be very combat-oriented, very special and very secretive, requiring significant study. It was like taking a trip into the unknown and really challenged me. I didn't know how far I would go."
E stresses that he received support from his chasidic community. "My story interests them," he said. "I didn't feel any difficulty before I enlisted, just doubts about where to go. Some places aren't appropriate for chareidim. I realized that religious life in a submarine would be a challenge, and if there is operational activity it overrides religious obligations and this was difficult for me at first, but there are a lot of religious people on the submarines and this made coping easier.
Out of E's original group, eight succeeded in passing the courses, but he says that "none of them failed because he was religious. The fact that we are a group strengthened us, we make Shabbos meals in the submarine and are responsible for the Zemiros, but all the secular staff respect us and know the customs."
E eventually passed all the extreme endurance tests and last Wednesday graduated as a diver in the Dolphin submarine, one of the most advanced in the Israeli naval fleet. He will be deployed in the torpedo section, one of the most exciting divisions of the submarines
E spent the festival and Shabbat at the Tel Aviv apartment where he has lived since his conscription and enjoys the stares of those who have yet to realize that there are chareidim serving in almost all advanced and challenging roles in the IDF while maintaining their appearance and values.
Follow VINnews for Breaking News Updates