JERUSALEM (VINnews) — In a remarkable picture from the ICU in Maayanei Hayeshua taken just hours before Rabbi Gershon Edelstein's passing, the rabbi can be seen doing what he had done for 75 years daily: giving his shiur on the Gemara to his devoted students. Despite all the tubes and wires surrounding him, the rabbi, fully attired and wearing a tie as befits the honor of the Torah, appears unperturbed and continues the schedule of study he has maintained for so long.
After being hospitalized on Shavuos night due to what he himself described as a Pikuach Nefesh situation, his condition stabilized somewhat and, after consultation with the doctors, he continued his daily preparation of the shiur, including writing down his conclusions on the sugya being studied in Ponovezh. On Sunday at 12 PM, a group of Meshivim [who repeated Rabbi Edelstein's shiur for other students] from the yeshiva came to hear the shiur and Rabbi Edelstein received them warmly and enjoyed teaching the sugya in Sanhedrin.
Actual footage from the last Shiur given by Harav Gershon Edelstein זצ״ל in the ICU at Maayanei HaYeshua hospital one month ago moments before his passing. pic.twitter.com/ukGJLEFTTA

— Akiva Ackerman (@AkivaAckerman) June 28, 2023
On Monday, Rabbi Edelstein continued his routine despite his weakness. Students stressed that the shiur on his final day was given with the same clarity and depth as all of his other shiurim. Rabbi Edelstein appeared overjoyed to teach the sugya in Sanhedrin. At 12:30 PM Rabbi Edelstein gave a continuation shiur in which he discussed the views of the Rishonim on the sugya. Rabbi Meir Kessler, Rabbi of Modiin Illit, was present and asked some questions which Rav Gershon answered. Rabbi Kessler then asked the  Rosh Yeshiva to some words of Chizuk, to which the Rosh Yeshiva replied with dark humor: "Now I'm the one who needs Chizuk."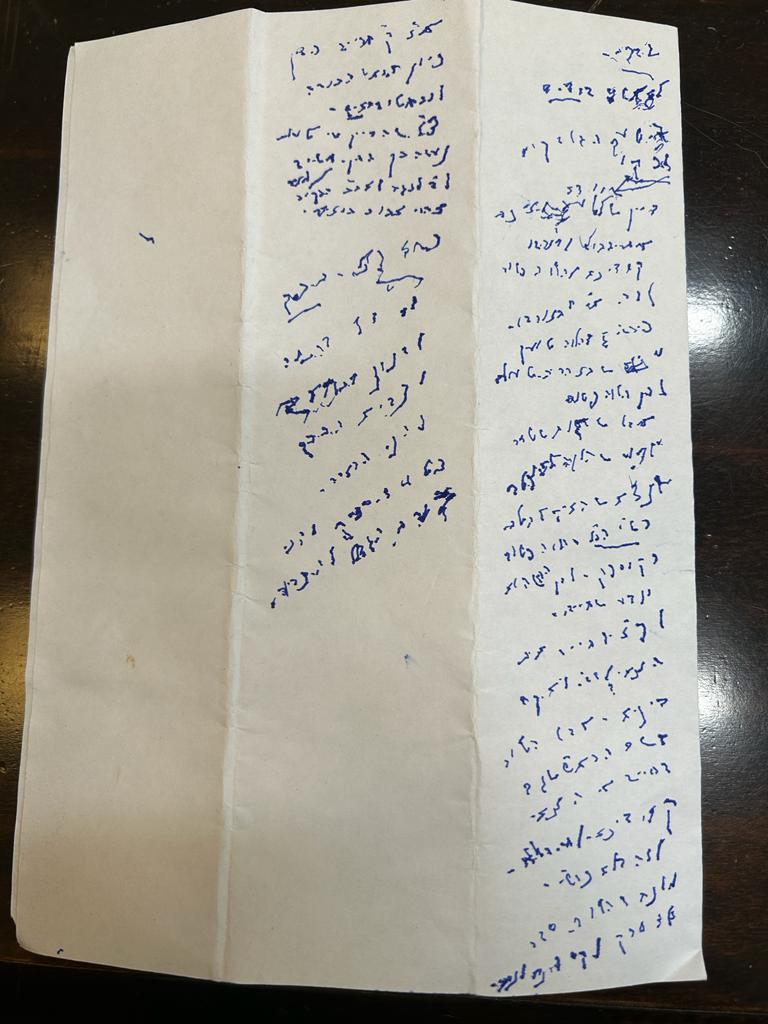 final notes from Tuesday morning
On Monday afternoon Rabbi Edelstein responded to several urgent questions and studied with his grandson, whom he has learnt with for years. The pair studied three folios in Nedarim. Rabbi Edelstein davened Maariv and spoke with Rabbi Dan Segal.
On Tuesday morning he awoke early to pray and prepare his shiur, even writing notes for the shiur. At this point he passed away suddenly, the page of notes still next to his bed as testimony to his determination to study until the last minute.
Follow VINnews for Breaking News Updates