(VINnews) — The AOC parody account which made big headlines this week has been deleted from Twitter. According to an unconfirmed report, the operator of the account had received death threats.
The account disappeared from Twitter Friday, along with the account of its creator, a known conservative political pundit.
Elon Musk tweeted in response to the news, saying "I hope it does come back. Was super funny."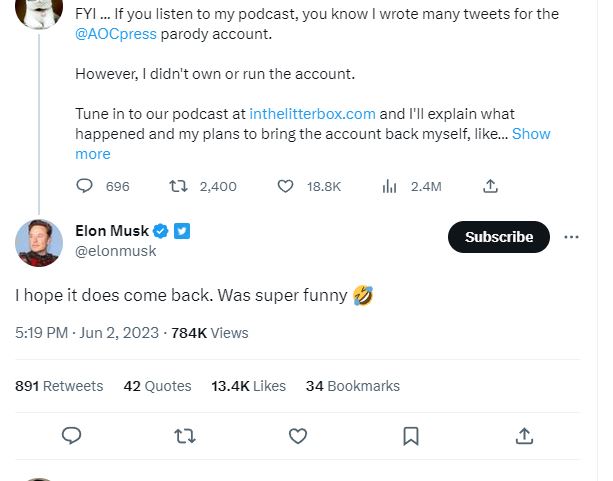 The account, @AOCPress, had been suspended by Twitter's previous management before Musk took over the company and allowed the account, as well as its creator, back on the platform.
On Monday, Musk tweeted an emoji in response to @AOCpress, at which point Ocasio had a meltdown.
She warned her millions of Twitter followers about "a fake account on here impersonating me and going viral," adding that Musk "has engaged it, boosting visibility."
"I am assessing with my team how to move forward. In the meantime, be careful of what you see," she said.
In just a few days, the parody account gained around 300,000 followers. It grew by over 100,000 followers on the day Ocasio tweeted about it. At the time, she blamed Musk for giving the account clout when he responded to the tweet, but that day, it only grew by 9,000 followers.
According to Huffington Post, a different right-wing internet personality said on a podcast Friday that the account's main operator had shut it down because he had received death threats. (HuffPost was not able to verify that.)
The man who started @AOCpress, a Trump-supporter named Michael Morrison, said he no longer operated the account.
"If I was running it I would gladly take credit. I think the account is hilarious," said Morrison, whose account also disappeared on Friday.
Morrison did not reveal who took over the account.
LISTEN TO SUNDAY'S YAAKOV M SHOW:
Follow VINnews for Breaking News Updates