JERUSALEM (VINnews) — One of the amazing aspects of archaeological finds in Israel is that they are many times not the result of official digs but rather random finds by ordinary citizens.
Join our WhatsApp group
Subscribe to our Daily Roundup Email
Last week, 13-year-old Itamar Grossman from Kibbutz Ashdot Ya'akov Meuhad visited the site and stopped to take a picture when he suddenly noticed a ring lying on the ground.For 1,700 years, the Roman -era ring had lay buried in the Sussita National Park without anyone noticing it.
"It was a strange and ancient-looking ring," Itamar told the Ynet site. "My brothers and cousins who were with me didn't think it was anything old, just a ring someone had dropped. But I insisted; I took it to my parents, and we noticed it was engraved, and thought it was really old. We approached a representative from the Nature and Parks Authority who was there, and they took the ring for initial examination."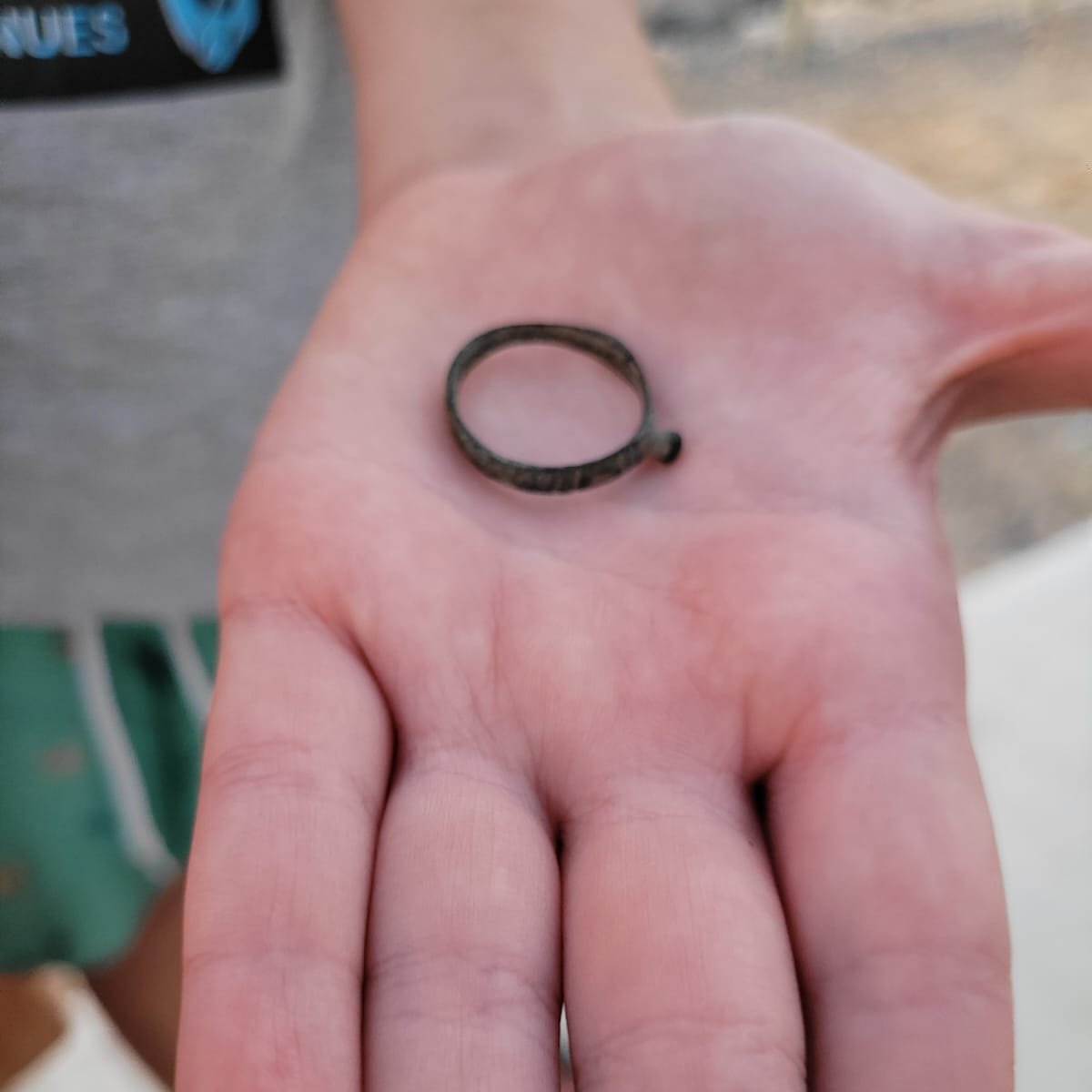 On Sunday, the archaeological examination's results on the intriguing find were sent, and Itamar was told he had found a treasure: a ring that was frozen in time for 1,700 years.
"When Itamar and his mother, Liat, approached us and showed us the ring they found, we immediately realized it was something significant," said Sarit Palachi Miara, the Israel Nature and Parks Authority's head of visitor experience in the northern district, who met the family at the national park.
"We thought it was a very interesting find, but we were afraid to get too excited. We didn't want to raise our expectations and then be disappointed. At first, we told Itamar that there was a chance it was from the Roman period. He didn't quite understand what that meant, and when we explained to him that it was so many years ago, his eyes widened in astonishment," she added.
Dr. Dror Ben-Yosef, an archaeologist in the Israel Nature and Parks Authority's northern district, described the ring. "The ancient ring is made of bronze, with an ornament created at the time of casting. According to similar rings found in Israel, it can be dated to the Roman period, between the first and fourth centuries CE," he said.
"I'm really happy it turned out I was right, and this is something important," Itamar said.
Sussita, located on the southern Golan heights above the Kinneret, was an important Roman town which did not have a Jewish population. This led to it being exempted from tithes during the time of Rabbi Yehuda Hanasi, among a number of towns which were exempted to enable poor people to benefit from their produce without needing to tithe.
Follow VINnews for Breaking News Updates