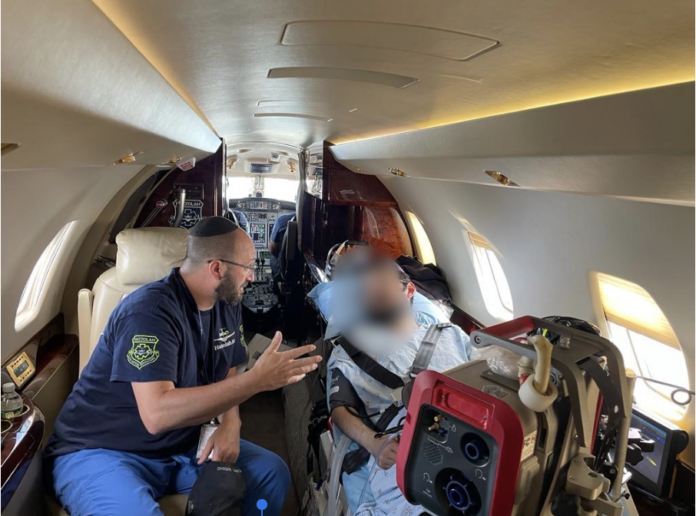 A Letter of Thanks from a Grateful Father
While at a camp 2000 miles from home, our 20-year-old son, Dov, faced a critical medical condition, potentially leading to Cardiac Arrest if not immediately operated on. Despite our son's deteriorating state, the local health clinic hesitated to schedule the necessary procedure. We sought advice from Dov's doctors in NY, who insisted on immediate surgery. However, the local clinic disagreed and insisted on waiting 96 hours before proceeding.
In desperation, fearing the worst, we reached out to Hatzolah Air for help in transferring Dov from the Midwestern hospital to NY. Hatzolah Air's response was a miraculous act in itself. The Hatzolah Air case manager assigned to us, along with their medical team, led by Dr. Avishai Neuman and Dr. Michael Grushko, sprang into action, preparing tirelessly day and night. The complexities of arranging the right doctors, medical transportation, and permissions were immense. Amid countless emails, calls, and paperwork, Hatzolah Air even secured FAA permission for a low-altitude flight due to potential midair cardiac arrest risks.
But the journey encountered another obstacle…
Just as everything seemed in order, a discharge crisis emerged. With the Hatzolah Air plane on the tarmac, the medical team ready, and approvals secured, a team of doctors declared our son unfit to fly due to worsening conditions. We implored them to reconsider, knowing the plane awaited on the runway, with medical staff on board. Despite our pleas, they attempted a quick fix, delaying us for hours.
Helplessly, I watched Dov pull out his tehillim and pray with tears, seeking divine intervention. Reluctantly, I informed our Hatzolah Air case manager of the setback, expecting her response to be that they couldn't wait any longer or that perhaps the receiving hospital could no longer accommodate us. Contrarily, she rallied, keeping the plane and medical staff ready for an extra 3 hours, rearranging schedules, and ensuring our son's room in NY was reserved.
Their dedication was humbling; even the warm greetings from the pilots, Captain Jacky Gross and Captain Jean Paul Chacur, 2000 miles from home, left an indelible memory. Dr. Michael Grushko, a tzaddik in his own right, led the medical team aboard, along with seasoned paramedic Moshe N. Braver (W-27), and EMT Alex Herman (HA-87).
Back in NY, our son underwent the procedure shortly after our arrival, and his recovery is progressing well, Baruch Hashem.
We lack words to convey the selflessness of the Hatzolah Air team. Though we'd never known them before, their unwavering support during those 36 hours of constant communication made all the difference. Their response turned our personal family emergency into their own. Next time you see a clear blue sky, look up and glimpse these Hatzolah Air angels aiding strangers in need.
With heartfelt gratitude for saving us.
Mendel Fischer & Family
When timing is critical and distances are great, Hatzolah Air is there.
As we enter a new year, we invite you to join our new mission:
A Sefer Torah to keep aboard our plane, offering protection of the highest form.
And you can be a part of it – for just $18 per letter.
Your donation can save a life. CLICK HERE TO DONATE
Follow VINnews for Breaking News Updates