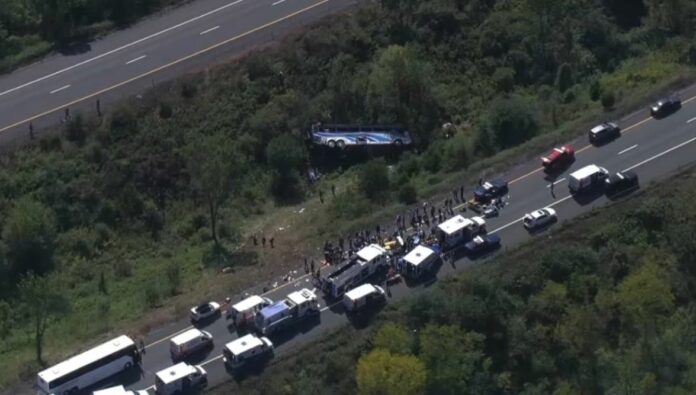 WAWAYANDA, N.Y. (AP) — A charter bus carrying high school students to a band camp hurtled off a New York highway and down an embankment Thursday, killing one person and hurting dozens of others, officials said.
Join our WhatsApp group
Subscribe to our Daily Roundup Email
According to News12, the person who died was the bus driver.
The wreck happened in the early afternoon on Interstate 84 in the town of Wawayanda, about 45 miles (72 kilometers) northwest of New York City, state police said. Forty-three people were taken to hospitals, county fire officials said on social media.
At least five people were badly hurt, Orange County Executive Steve Neuhaus told WNBC-TV.
Student Anthony Eugenio called his family to say he was a little banged up, but OK. He recalled the bus rolling over several times before it came to a rest.
"He said he is really sore. He's got a big bump on his leg. He's got blood on his pants from somebody else. The person next to him was covered in blood," his father, Jonathan Eugenio, told The Associated Press in a phone interview from near the upstate crash site.
Anthony, who plays the trombone, had to borrow a friend's phone because he could not find his, after the bus tumbled off the road.
"It was pretty nerve-wracking," the worried father said. "When you get news like that and your son is two and half hours away — it's pretty scary."
News footage showed ripped-up grass on the embankment and the bus lying on its left side with its roof warped. A ladder allowed rescuers to reach the windows.
The bus was one of six in a caravan carrying students from Farmingdale High School on Long Island to a band camp in Greeley, in northeastern Pennsylvania, according to a message from the school district.
A September trip to band camp is an annual tradition at the suburban high school, which has around 1,700 students. Members of the marching band, color guard and the school's kick line team attend, as well as adult chaperones. During some years, more than 300 students have gone on the trip to rehearse and have fun in rural Pennsylvania.
Students on the other buses were to stop off at a community college for a break before heading back to Long Island's Nassau County.
"Students will have the opportunity to stretch and meet with grief counselors," according to a message from the district. "Once cleared, they will be returning to Farmingdale High School."
Westchester Medical Center received three patients, said hospital spokesperson Andy LaGuardia, who could not provide conditions. Two other hospitals in the region received patients, LaGuardia said, but he did not have details.
State troopers and emergency workers were on the scene to help local crews, Gov. Kathy Hochul said.
"We are grateful for the first responders whose speedy action saved lives and we will continue to support them however necessary. Our hearts are with all who are impacted by this horrific situation," Hochul said in a prepared statement.
Nassau County Executive Bruce Blakeman asked that people please "pray for the injured."
Heartbroken for the family and friends of the person killed in today's bus crash involving students from Farmingdale High School. My thoughts are with the injured and with the entire Farmingdale community as they deal with this tragedy.

— Rep. Andrew Garbarino (@RepGarbarino) September 21, 2023
I'm monitoring the reports of this bus crash, and I'm praying for the students, passengers, families, and everyone involved.

We thank all of our first responders on the scene.https://t.co/2H2w6kEInN

— Chuck Schumer (@SenSchumer) September 21, 2023
Gov Hochul has been brief on fatal Orange Co. bus crash "At my direction, personnel from the New York State Police and the Division of Homeland Security and Emergency Services are onsite to assist local emergency response teams." https://t.co/Ou4ECfcueC

— Ali Bauman (@AliBaumanTV) September 21, 2023
Follow VINnews for Breaking News Updates