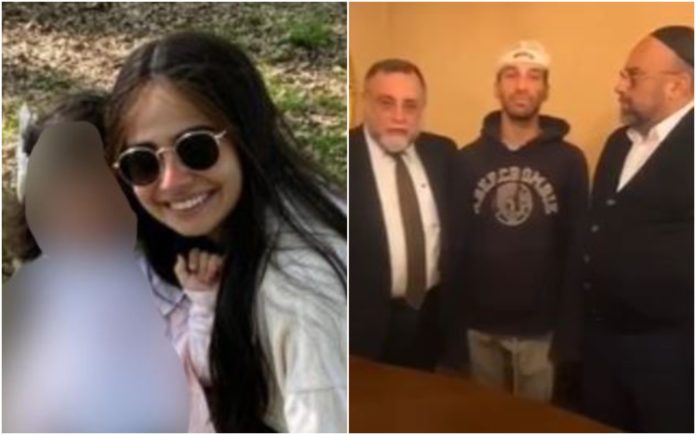 By Shmiel Soiferman
Who says social media is bad?
Social media and the rallies that social media have brought about – have accomplished the near impossible – pressuring recalcitrant husbands into giving a get.
The case in point, Elizabeth K., a woman living in Brooklyn, who has been waiting four years to receive her get, got it earlier tonight.  Instagram was particularly effective in this get – because there is a newly empowered group of Influencers on Instagram that arranged an impromptu rally.
The rally was held this morning at one venue and went to another.
"People came out of the woodworks," remarked Avi David, who observed the rally."The rally was actually planned, but many other women showed up because it went viral on Instagram and everyone's Facebook page," he continued.
Today at the #FreeElizabeth rally on Ocean Avenue I spoke how we must help these women & how we can LEVEL UP our legal/legislative approach in a manner that doesn't conflict with our religious beliefs. There are REAL options and I will discuss them more in detail on social soon. pic.twitter.com/J95mKYCGyL

— Amber Adler (@AmberAdlerNYC) March 11, 2021
https://twitter.com/brachashap/status/1370185847287463942
There is evidence as well that the rally proved effective. Rabbi David Ozeri, one of the leading Rabbonim in the Syrian community appeared at the event and asked the women to stop the rally, explaining that in fact he will be meeting with the husband at 3 PM to try to obtain a Get. The women asked him what their recourse will be if the Get is not given. Rabbi Ozeri answered that in that in case he will come back the following day and lead the protest.
Sure enough, a Kosher Get was facilitated several hours later by rabbi Ozeri at the home of of Mr. Harry Adjmi, one of the pillars of the Sephardic community in Flatbush.
— Bracha Kahane (@brachashap) March 11, 2021
There is growing social media pressure on other cases as well: Yechiel Friedman is a case in point.  Yechiel Friedman has been legally divorced for close to eighteen years.  The actual Seruv was only issued in 2013 – by the Beis Din of America.  David Nahmmany has an active social campaign going on now and is listed on Ora, a leading advocacy organization dedicated to relieveing the plight of Agunos.  There are two more cases that are found on Ora's website, www.Getora.org that deserve greater recognition.
David Nachmani and his wife have had a legal divorce since 2007. There is a siruv against him from Beis Din of America.  His wife has been an Agunah for 13 and ½ years.
Moshe Stern has been separated from his wife Patricia since 1995 – that's 26 years. Patricia lives in Israel.  Moshe Stern moves around all over the place.  His last known location, however, was in Boro Park.  The Psak against Moshe Stern was from the Rabbanut of Eretz Yisroel, signed by Rabbi Ezra Batzri and Rabbi Benyamin Levy and Rabbi Masoud El-Chadad.
The following links contain the biographical details of these three – with the link to the seruv.
https://www.getora.org/yechiel-friedman
https://www.getora.org/david-nahmmany
https://www.getora.org/moshe-stern
"These rallies worked.  There are organizations and Rabbis that have worked for years and  the Get has not come through.  This Get came about by frum women on Instagram who have created a movement that has inspired the women you are seeing at these rallies,"  says Yechiel Y.
This person is clearly referring to Ora.
Others, however, have the opposite complaint.  They complain about Ora's tactics saying that they violate halacha. A comment on a rival website expresses this very thought.
Ora, however, follows the advice of leading and nationally recognized Poskim.
"There is a debate among the Poskim regarding the parameters of what defines an improper get me'usa.  Ora only publicizes the seruvim issued by the Beis Din and with their authorization to publicize it," explains Rabbi Yonatan Klayman, Director of Advocacy for Ora.
"It also makes a big difference if we are contacted early on.  Ora works closely with the Batei Dinim, the Agunah and their legal representatives to make sure that everyone is on board with the process.   The Beis Din generally authorizes publicizing a seruv when, in their view, it would be impossible to obtain otherwise.  That's why pressure implanted thoughtfully,"  remarks Keshet Star, CEO of Ora.
There is, of course, a downside sometimes to social media campaigns in that it can also backfire.  How so?  At times, a husband is almost in agreement to give a get and states that he will do so if his name is taken off certain websites and facebook pages.  When something goes viral, however, this cannot happen.  Therefore, it is extremely important to be in touch with the people that are working to obtain that get.
As this is a developing phenomenon, stay tuned for more rallies, and, hopefully, more Agunos set free.  Oh, and Mazel Tov Elizabeth!
You can reach the writer at [email protected]
Follow VosIzNeias For Breaking News Updates