JERUSALEM (VINnews) — In yet another egregious example of anti-chareidi incitement which is reminiscent of anti-semitic tropes, Israeli news anchor Galit Gutman said on live television that "the chareidim are sucking our blood", an expression similar to "Sie saugen unser Blut" used by the Nazis against Jews.
Join our WhatsApp group
Subscribe to our Daily Roundup Email
Gutman's extraordinary diatribe caused significant controversy, as even Prime Minister Netanyahu sharply criticized her tone, stating that it was an "ugly and inciteful" statement.
Chareidi MKs as well as coalition members were incensed by Gutman's statement, with some of them calling for steps to be taken against Channel 12 where the statement was made and others demanding that Gutman be suspended from her position until she apologizes.
גלית גוטמן: "החרדים האלו מוצצים לנו את הדם". בגרמנית זה היה נשמע יותר טוב.

בושה וחרפה! pic.twitter.com/ilHT0AsLVq

— אריאל אלחרר (@ariel_elharar_) May 19, 2023
MK Yisrael Eichler (UTJ) said that "for decades some members of the media and the politicians are inciting and slandering the chareidim. We wanted to believe that 'the dogs are barking but the convoy will pass' but in recent times it has become apparent that the incitement has influenced many Israelis who are convinced that 'the chareidim are our trouble" just as Nazis demonized them. Many of them are screaming that the chareidim are "sucking their blood" and there needs to be a "solution" to the problem of chareidi birthrates.
Eichler called on the police to put an end to every statement, written or oral, and every caricature and expression which are antisemitic.
"If they don't do this, Hezbollah, Islamic Jihad and Iran can be relaxed because the country will implode," he warns.
Channel 12 (Keshet) announced that it condemned Gutman's harsh words, stating that "these words are unacceptable and should never have been said. We are upset at this and apologize for the gratuitous insults. Keshet said that Gutman had apologized for "the tone of her words and for generalizing against an entire sector" and had been summoned to a hearing on Sunday.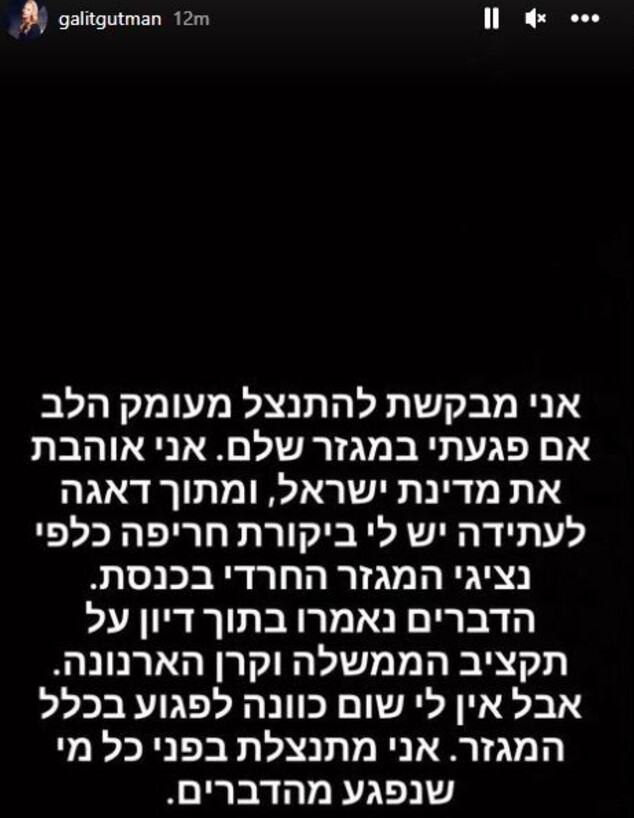 Gutman published her apology, stating that "I wish to apologize from the depths of my heart if I hurt an entire sector. I love the country and due to my concern for its future I have strong criticism for the representatives of the chareidi community. This was said during a discussion on the budget but I didn't intend to hurt an entire sector".
Follow VINnews for Breaking News Updates