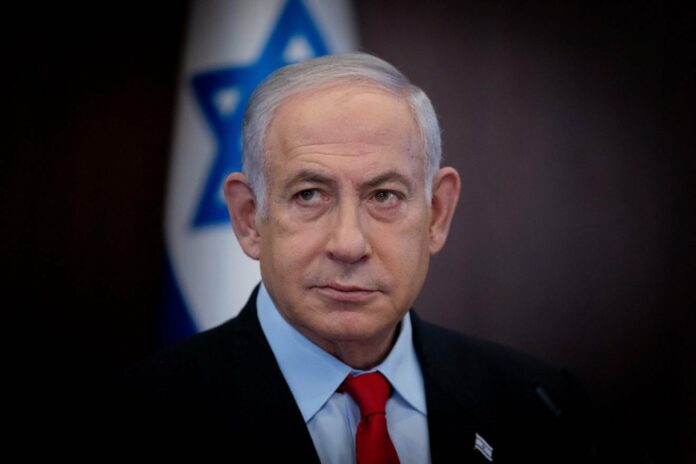 JERUSALEM (VINnews) — Prime Minister Benjamin Netanyahu, Defense Minister Yoav Gallant (Likud), and Minister Benny Gantz (National Unity) held a press conference in Tel Aviv Saturday night, focusing on Israel's progress in the war against Hamas and on what the future might hold.
Netanyahu began his speech by sending condolences to the families of the soldiers who fell in Gaza: "We salute the heroism of the fallen and embrace the families. May G-d avenge their blood."
Turning to the families of those held hostage by Gaza terrorists, Netanyahu denied any deal currently being on the table, choosing instead to strengthen the families. "We are walking together with you, I am walking with you. Until this moment, there has not been a deal, but when we have what to say, we will update the public about it. We know the nightmare which the families are living through."
"Within the US and outside of it, the pressures on us have been increasing in recent weeks. We will continue until we destroy Hamas and bring our hostages home.
"They demanded that we not enter the [Gaza] Strip, that we not enter Gaza, that we not enter Shifa, that we agree to a full ceasefire. We have refused all of these. We insist on our existential security interests."
Netanyahu added: "I learned from my father that you cannot win militarily without diplomatic backing, and you cannot receive diplomatic backing without fighting for the opinion of the public in the countries of the world."
The prime minister explained the decision to allow fuel into Gaza despite there being no deal on the hostages: "Israel is acting according to the laws of war. Without humanitarian aid, even our best friends will have a hard time supporting us for an extended period of time. And so when the IDF and Shin Bet recommended acceding to the American request to allow two containers of gas in per day, the war cabinet accepted the recommendation unanimously."
"We will continue to be steadfast about three goals: achieving complete victory over Hamas, returning the hostages, and that Gaza will never again threaten Israel."
When asked about recent polls, which show his party lagging far behind Gantz's, Netanyahu responded: "Soldiers are fighting in Gaza, the hostages' families are living a horrific nightmare – and this is what you're interested in?"
Defense Minister Yoav Gallant said: "In recent days, we have moved to the second stage of maneuvering in the Gaza Strip. IDF forces are maneuvering eastwards as well. Hamas is badly hit, and is losing command centers and tunnels."
"The more we deepen the achievement, the more we hit Hamas, the more opportunities will come our way. This organization thinks only about its own survival and that of its leaders."
"Hamas is playing on the feelings of the Israeli public, and the Cabinet is united in its desire to bring the hostages home. We will remain together and we will act as a single fist against the enemy."
Minister Benny Gantz said: "The fighting is expanding, and it will end only when we ensure security and return our sons and daughters home. The war will continue with powerful force, and afterwards there will be an additional period of fighting, and only afterwards will there be quiet and security. It will take as long as it takes – we are determined."
"In this war, we are justified and we need to utilize all of our experience and responsibility, and be careful and wise. My friends and I joined the government and the cabinet because at this time, we need to make tough decisions, and we need to make them with as broad support as possible, so that we will have the time and legitimacy necessary – both internal and external.
Follow VINnews for Breaking News Updates