JERUSALEM (VINnews) — BDE: The IDF announced the names of four more soldiers who fell in the fierce battles taking place in Northern Gaza, and one who died in a car accident during a furlough.
– Sergeant Binyamin Meir Airly, 21, from Beit Shemesh, who served in the 101st Battalion, the Paratroopers Brigade. Airly was a student at the Hesder yeshiva in Tzfat.
– Captain (res.) Roey Biber, 28, from the village of Tzur Moshe, a moshav in central Israel, who served in the Yahalam unit of the Israeli Combat Engineering Corps.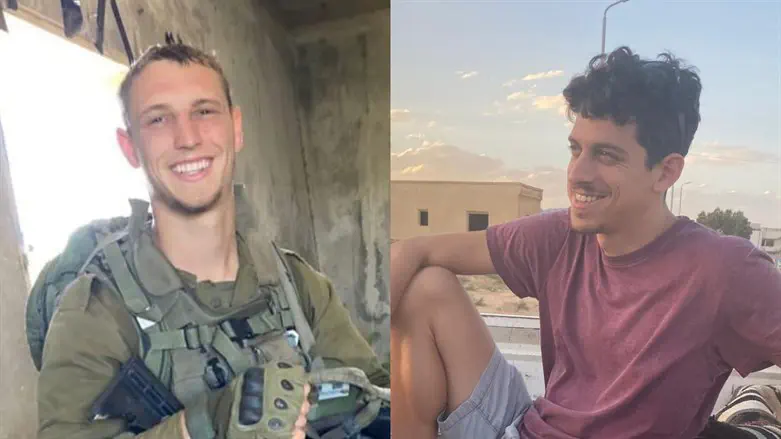 Roi Biber (R) and Binyamin Meir Airly HyD
– First Sergeant Yakir Biton, a 34-year-old resident of Jerusalem, who served in the 8717th Battalion, 261st Brigade.
– Sergeant Major Rani Tahan, a 40-year-old resident of Sde Nehemia, who served in the 8717th Battalion, 261st Brigade.
– Major Chen Yahalom, a 35-year-old resident of Kfar Azar, who served in the 8159th Battalion of the Artillery Corps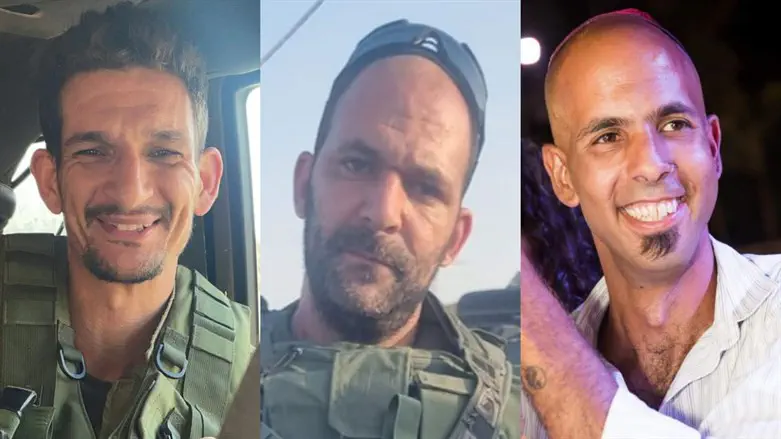 Chen Yahalom (l) Yakir Biton and Rani Tahan
Biton and Tahan were killed in battle with Hamas terrorists in Gaza on Saturday. Yahalom was killed in a car accident while on his way back from Gaza.
In addition, a soldier in Paratroopers Brigade was seriously injured in a battle in the northern Gaza Strip.
Fierce fighting continues in the Northern Gaza strip, where the IDF is working to gain control of the Zeitun, Jabalya and Sejaiya neighborhoods in eastern Gaza, which would conclude the takeover of the entire northern section of the Gaza strip. The forces are coordinating assistance from naval and air forces to destroy the terrorist posts in these regions.
באחד מהקרבות, צוות הקרב החטיבתי של נח"ל זיהה חוליית מחבלים שעמדה לירות על הכוחות מגג בניין מגורים, הכוח הכווין כלי טיס מאויש מרחוק שחיסל את המחבלים. בנוסף, במהלך סריקות נמצאו אמצעי לחימה וציוד צבאי בבנייני מגורים אזרחיים >> pic.twitter.com/y2Q2RPOzt0

— דובר צה״ל דניאל הגרי – Daniel Hagari (@IDFSpokesperson) November 19, 2023
IDF forces have also located several attack tunnels under the Shifa hospital, including a tunnel with a  blast-proof door which has a one-way firing position in it.
Meanwhile, The Washington Post reported that Israel, the US and Hamas have agreed to a tentative deal that would free dozens of women and children held hostage in Gaza, in exchange for a five-day pause in fighting.
The release could begin within the next several days, barring last-minute hitches, said people familiar with the provisions of the agreement.
Follow VINnews for Breaking News Updates