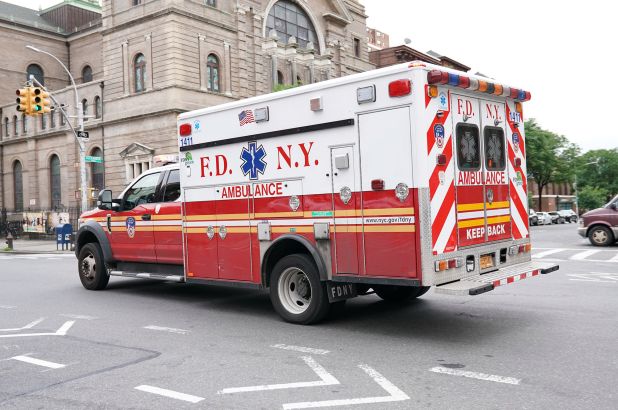 QUEENS (VINnews) — Northwell Health, New York's largest private hospital system, is cutting ambulance coverage in parts of Queens, raising concerns about possible backlogs in response times from other ambulance services.
Effective this week, the hospital is reducing coverage in eastern and central Queens, according to the NY Post.
Northwell Health System includes Cohen's Children's Medical Center and Long Island Jewish, both in New Hyde Park, Long Island Jewish of Forest Hills, as well as the hospital formerly known as North Shore, near Great Neck.
As part of the reduction, it will eliminate advanced life support on night/overnight ambulance tours in Douglaston, Little Neck, Bayside, Forest Hills and Rego Park, according to a source cited by the paper. Some of those areas are home to large Jewish populations, including orthodox communities, although most of those presumably call Hatzoloh during an emergency.
The FDNY EMS, operated by the city, is already struggling with slower 911 response times, according to a city report. In addition, Mayor Adams recently announced budget cuts across city agencies. Now the downsizing of Northwell would likely put an even greater strain on EMS response times.
Oren Barzilay, president of the union representing 4,100 of the city's EMTs and paramedics, said FDNY had agreed to cover the routes being discontinued by Northwell, but he is worried that may be in jeopardy due to Adams' cuts, which are intended to make up for a multi-billion dollar gap exacerbated by the migrant crisis.
"The budget cuts are a problem. Our ambulance crews were supposed to take over Northwell Health's units," Barzilay said, adding: "Every second counts and can be a difference between life and death. Minutes count here."
Response times to 911 life-threatening emergency calls have climbed since the pandemic — from 9 minutes and 22 seconds in 2019, to 10 minutes and 17 seconds in 2022, and 10 minutes, 43 seconds in 2023.
The FDNY attributed part of the increase to fewer ambulances last year, after older ones were taken out of service — and to traffic congestion.
Officials said that "increases in dispatch and travel time can (also) be attributed to a seven percent increase in life-threatening medical emergency incidents."
Follow VINnews for Breaking News Updates