JERUSALEM (VINnews) — Tel Aviv District Court judge Hadas Ovadia ruled Thursday that the Rosh Yehudi community could not continue to place a Mechitza in the Dizengoff square when they conduct the Neila prayers there as they have done in recent years.
The ruling came after the Tel Aviv municipality had told Rosh Yehudi that the Mechitza in a public place constituted an exclusion of women and should not be allowed in a public place. Rosh Yehudi, a center for Jewish outreach located in Tel Aviv, petitioned the court against the municipal decision but Ovadia, snubbing 2000 years of historical evidence of the Mechitza, claimed that such an item placed in a public place would indeed exclude women and should not be allowed. She added that "Mixed prayer on Yom Kippur will not harm the quality of the prayers."
Judge Hadas Ovadia
The judge's decision was criticized by religious lawyer Tzofnat Nordman as "The first prohibition of a mechitza in the sovereign state of Israel since the British and the Mufti", a reference to the mandate period when it was forbidden to place a mechitza at the Western Wall.
Nordman said that the ruling "tramples the very foundations of constitutional and administrative law and the basis of liberalism. It insults and shames any Jew who has not totally abandoned his heritage."
Rosh Yehudi said that "A wonderful tradition of mutual respect by thousands of residents of the city from all sectors has been stopped. The state of Israel's court ruled that separate prayer in accordance with Jewish tradition is prohibited by law.
"The Mechitza in Dizengoff was minimal and only near the Chazan and never disturbed passersby. On the contrary, thousands gathered around this minyan without a Mechitza and were moved in unity, but the administrative court rejected the petition and decided to prohibit the prayer on the holy day in Dizengoff Square.
"In her explanation of the ruling, Judge Hadas Ovadia claimed that 'Gender separation is seen by the halacha as an expression of feminine exclusion'. We are sorry that the judge misconstrued the halacha which protects the honor of women far better than the court and in her decision has prevented many men and women from the mutual experience they had hoped for."
Rosh Yehudi added that they were consulting rabbis on how to respond to the ruling.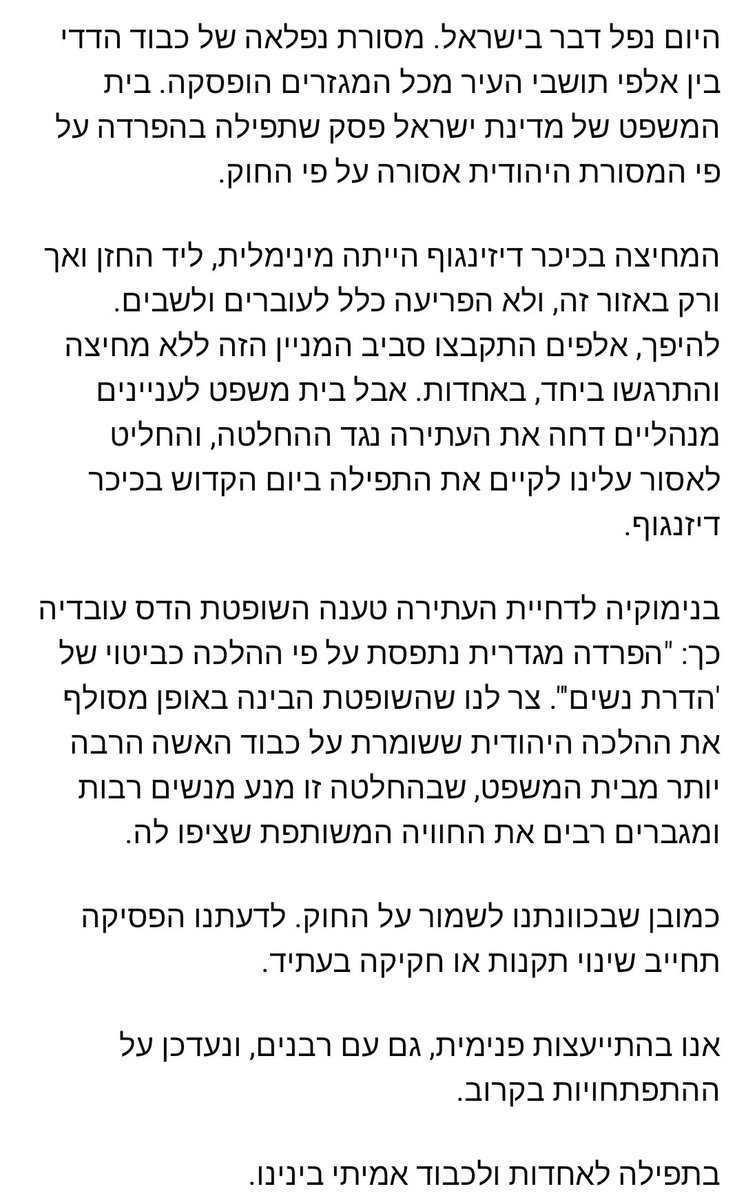 Follow VINnews for Breaking News Updates