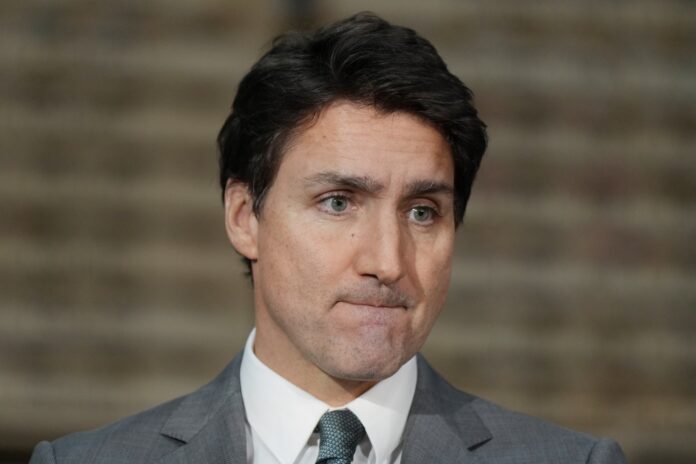 NEW YORK (VINnews) — Two people were arrested after pro-Palestine protesters swarmed two restaurants visited by Canadian PM Justin Trudeau in Vancouver, demanding a ceasefire in Gaza. Trudeau had to leave the second venue under police protection.
Join our WhatsApp group
Subscribe to our Daily Roundup Email
In an attempt to appease the large pro-Palestinian elements in Canada, Trudeau had made a statement urging Israel to "exercise maximum restraint" but had not called for an actual cease fire.
"I urge the government of Israel to exercise maximum restraint," Trudeau said in his speech. "The world is watching, on TV, on social media – we're hearing the testimonies of doctors, family members, survivors, kids who have lost their parents.
"The world is witnessing this killing of women, of children, of babies. This has to stop," he told a news conference in the western province of British Columbia.
In a post on X directed at Trudeau, early on Wednesday, Prime Minister Netanyahu responded sharply, stating that: "It is not Israel that is deliberately targeting civilians but Hamas that beheaded, burned and massacred civilians in the worst horrors perpetrated on Jews since the Holocaust."
The Centre for Israel and Jewish Affairs (CIJA) also criticised Trudeau's statement, stating that "If Canada wants to contribute to the goal of sustainable peace, it will stand firmly with Israel as it toils to remove the murderous Hamas regime from Gaza. Anything less condemns the region to perpetual suffering for all."
Despite Trudeau's criticism, protesters heckled and verbally abused him as he dined at restaurants in Vancouver Tuesday evening. The Vancouver Police Department (VPD) said it had "deployed nearly 100 officers on Tuesday night to disperse a protest outside a Chinatown restaurant where the prime minister was dining".
Pro-Palestinian protesters shouting "cease fire now" entered a Vancouver restaurant where Canadian Prime Minister Justin Trudeau was dining and forced him to leave. pic.twitter.com/CveOswU8ic

— NEXTA (@nexta_tv) November 15, 2023
The restaurant was not identified, though Trudeau also faced protests at a popular Indian restaurant, Vij's, which he had visited earlier in the evening.
VPD said that officers responded around 10pm, after "approximately 250 people surrounded the restaurant" and police "assisted in controlling and dispersing the crowd, while the prime minister was escorted out of the restaurant".
A 27-year-old male was arrested for assaulting a VPD officer, who was punched in the face and had her eyes gouged while dispersing the protest. The officer received medical treatment for her injuries. "VPD is recommending criminal charges against the man," the release stated.
A 34-year-old man was also, arrested for obstructing police. He has been released from custody pending further investigation.
"The Vancouver Police Department supports everyone's right to peacefully assemble and to express their views. When protests occur, VPD's primary role is to maintain order, to facilitate a peaceful environment for people to express themselves, and to respond to unlawful behaviour if it occurs," the release said.
Follow VINnews for Breaking News Updates