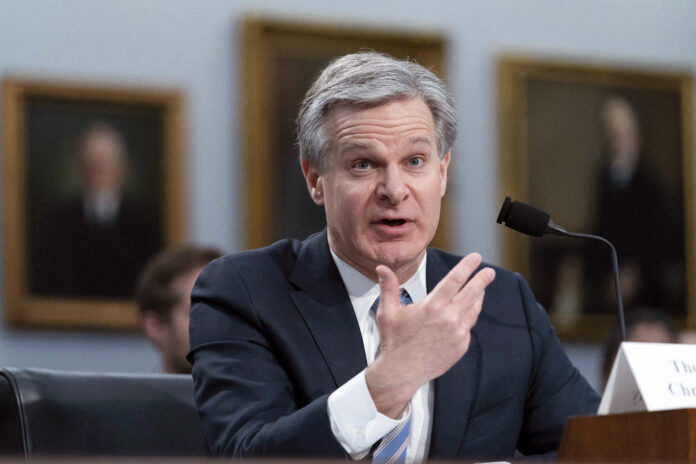 WASHINGTON (VINnews) — Christopher Wray says that Hamas and other terror groups may be plotting attacks on US soil.
Speaking in Congress this week, the FBI Director warned that terrorist organizations might exploit the Israel-Hamas war to carry out attacks.
"In a year where the terrorism threat was already elevated, the ongoing war in the Middle East has raised the threat of an attack against Americans in the United States to a whole other level," Wray said. "Since October 7 we've seen a rogue's gallery of foreign terrorist organizations call for attacks against Americans and our allies. Hezbollah expressed its support and praise for Hamas and threatened to attack U.S. interests in the Middle East. Al Qaeda issued its most specific call to attack the United States in the past five years. Al Qaeda in the Arabian Peninsula called on jihadists to attack Americans and Jewish people everywhere. ISIS urged its followers to target Jewish communities in the United States and Europe."
"Given those calls for action, our most immediate concern is that individuals or small groups will draw twisted inspiration from the events in the Middle East to carry out attacks here at home," he warned.
"On top of the so-called lone actor threat, we cannot and do not discount the possibility that Hamas, or another foreign terrorist organization, may exploit the current conflict to conduct attacks here on our own soil," he stated. "We have kept our sights on Hamas and have multiple investigations into individuals affiliated with that foreign terrorist organization. And while historically, our Hamas cases have identified individuals here who are facilitating and financing terrorism overseas, we continue to scrutinize our intelligence to assess how that threat may be evolving."
He pointed out the threat of other Iran-backed terror groups besides Hamas, saying, "But it's not just Hamas; as I highlighted for this committee in my testimony last year Iran, the world's largest state sponsor of terrorism, has directly or by hiring criminals, mounted assassination attempts against dissidents and high-ranking current or former U.S. officials, including right here on American soil."
"Or take Hezbollah: Iran's primary strategic partner, which has a history of raising money and seeking to obtain weapons here in the United States," he noted. "FBI arrests in recent years also indicate Hezbollah has tried to seed operatives, establish infrastructure and engage in spying here domestically, raising our concern that they may be contingency planning for future operations in the United States. And while we are not currently tracking a specific plot, given that disturbing history, we are keeping a close eye on what impact recent events may have on those terrorist groups' intentions here in the United States."
Follow VINnews for Breaking News Updates