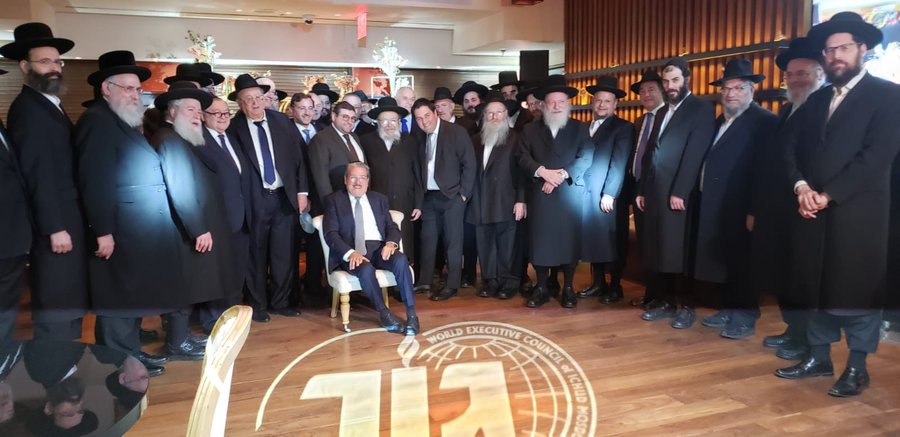 NEW YORK (VINnews) — A surprise party was held Sunday night in honor of the 70th birthday of the Chairman of Agudath Israel of America and CEO of sportswear line, OuterStuff, Shlomo (Sol)Werdiger. Shlomo (Sol) Werdiger.
A son of a Holocaust survivor from Sosnowiecz, Werdiger wears many hats, being in his business position a prominent outfitter of some of the most famous sports teams but at the same time an unstinting philanthropist and kiruv personality. In his youth he had a close personal relationship with the Beis Yisrael of Gur and still maintains his warm association with Gur. He has made many unusual connections during his career and was even invited to the Olympics in South Korea.
A story circulating a few years ago had it that Mr. Werdiger was asked to dine several years ago with the former South Korean Ambassador to the United Nations Oh Joon.
Mr. Oh told Mr. Werdiger that his daughter had been working at Outerstuff for a while, and she often told him how impressed she was by the company's ethics. How they stopped to daven Minchah every day, how they closed their doors for Shabbos every week, how every fundraiser was treated with dignity, how women such as her were treated with respect.
Mr. Oh said that the impression he got from his daughter changed his perspective on Jews, and led him to change his vote on Israel-related resolutions on three occasions, including once when he cast the pivotal ninth vote in favor of the Jewish State.
Mr. Werdiger confirmed the story, adding modestly: "That's an unbelievably powerful story. It just comes to show you that you could never know. This didn't cost me a penny. You can make an impact if you act like a mentch and you act morally."
In recent years, Werdiger has emerged as a pivotal, if behind-the-scenes, political activist working with a small group of influential people on behalf of Israel and the Orthodox community.
This could be a reason why both Prime Minister Netanyahu and former ambassador David Friedman also offered their congratulations on Werdiger's birthday.
בשעה זו מתקיימת בניו יורק מסיבת הפתעה לנגיד שלמה (סול) ורדיגר מראשי אגו״י באמריקה לרגל הגיעו לגיל 70. מהארץ שיגרו ברכות ראשי המדינה, אדמו״רים, רבנים ופוליטיקאים ששיבחו את עשייתו הרבה למען מדינת ישראל ועם ישראל. צפו בברכתו של רה״מ נתניהו: pic.twitter.com/zZEAsh6Olx

— ישראל כהן (@Israelcohen911) March 14, 2021
Follow VosIzNeias For Breaking News Updates