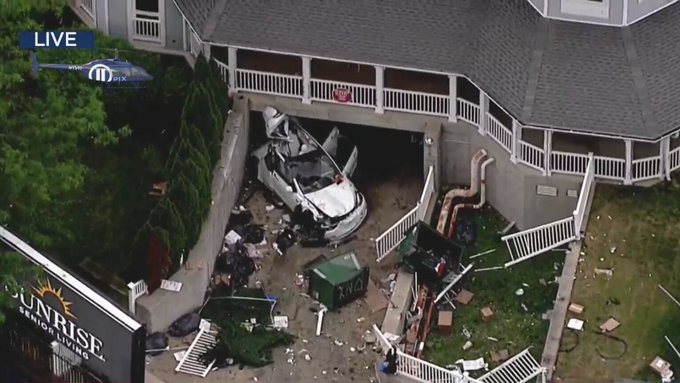 BROOKLYN (VINnews/Sandy Eller) – An Orthodox Jewish Mill Basin family is mourning the loss of their teenaged son after the car he was riding in slammed into a fence, hit two dumpsters, spun out of control and struck a retaining wall.
Click to get Text Message Updates right to your phone
Join our WhatsApp group
Police said that the fatal crash took place just before midnight on June 10th, with the driver of a 2021 Tesla failing to negotiate the right turn as he traveled at a high speed from National Drive onto Strickland Avenue, just south of Jamaica Bay.
Sources said that 18 year old Jack Levy, who was in the passenger side rear seat of the Tesla was pronounced dead at the scene, one day after graduating from Yeshiva of Flatbush.
Levy was one of five young men in the Tesla, which came to rest in the driveway of an assisted living facility on Strickland Avenue.
Emergency crews responded to the scene, transporting Levy to Brookdale Hospital, along with the 18 year old middle seat passenger, who was in stable condition.
All of the other occupants of the Tesla were taken to NYC Health & Hospitals/Kings County, with the 22 year old driver sustaining injuries to his right hand and leg and the other two occupants, ages 22 and 24 suffering just minor injuries.
The accident remains under investigation and police said they could not tell at this time if the car was being operated by the driver or in Tesla's autopilot mode.
Follow VosIzNeias For Breaking News Updates