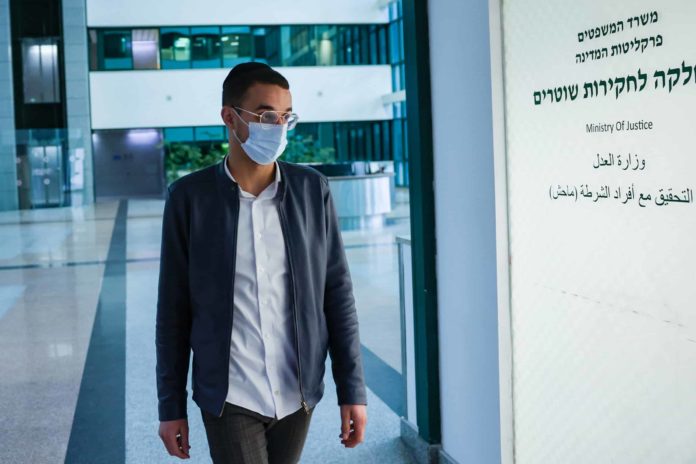 JERUSALEM (VINnews) — A Charedi was allegedly brutally attacked and beaten by police officers, then arrested and jailed, during Wednesday's violent hafgana in Geulah and Mea Shearim against cell phone stores. It appears the man did not even participate in the protest, rather he was an innocent bystander who happened to work in the area.
Chaim Mizrachi, a bachur who works in a nearby store, described in an interview the abuse that he allegedly suffered during Wednesday's protests, completely unprovoked. He said that the officers commented, "Look, we caught another dog."
According to Israeli media reports, videos from the scene show Mr. Mizrahi innocently approached a police vehicle and told the officers that they had hit another car. One of the officers, who were on their way to help control the protests, got out of the vehicle, hit him in the face and apprehended him.
In an interview on Kan news, the victim said, "I stepped out [of the store] for a break and I noticed the police car had scratched another car. Then they started beating me with their fists, pounding me in deadly fashion, then they handcuffed me and put me in their car. They kept pounding me, and I still have headaches as a result. It was abuse, plain and simple."
He added, "They cuffed my hands and chained my feet as well. They placed me in a jail cell, I kept asking to go to the bathroom, I begged them to let me out.
"They interrogated me and accused me of being part of the protest. They refused to let me speak with a lawyer. They said to me, 'You are not going free too soon, you've made the mistake of your life.'"
On Thursday morning Mr Mizrachi was brought to court. The judge ordered him released, and she spoke harshly against the police: "This was unnecessary violence, without any logic or reason, and must be condemned. Moreover, it is not clear how after these videos were presented to a police officer, they did not immediately release the suspect, apologize, and transfer the case directly to the Dept. of Police Investigations."
The judge said at the hearing that she had watched the videos of the assault and that "she could not believe what she saw."
According to Mr. Mizrahi, the judge told police representatives that she intended to file a complaint against the police herself. "She was shocked by the videos," he added.
The Department of Police Investigations has opened an investigation.
In response to the allegations, the police put out a statement: "Yesterday there was a violent disturbance in Jerusalem against cellular phone stores, after threats were made against them which violate the law. Dozens of protesters violated the law and public order, damaged a cell phone store at that location and blocking a traffic lane.
"Since then we have seen reports and evidence that do not reflect the prolonged violence that took place. Any claims or complaints against the police who were trying to secure law and order will be investigated by officials in charge of these matters. We will continue to allow protests that comply with the law, however we will not allow disorderly conduct and violence that breaks the law."
Follow VosIzNeias For Breaking News Updates