LONDON (VINnews) — The British Board of Deputies, a leading UK Jewish communal group gave a rude welcome to Religious Zionism leader Betzalel Smotrich who arrived in London Wednesday, telling him to "get back on the plane and be remembered as a disgrace forever."
Join our WhatsApp group
Subscribe to our Daily Roundup Email
Smotrich tweeted he was in Britain "for a series of meetings with rabbis, community leaders, and Jewish organisations", including Mizrachi UK and Bnei Akiva. However the Board of Deputies and the Zionist Federation condemned Smotrich's visit. The board tweeted that Smotrich "provokes hatred" and called on Anglo Jewry to "show him the door."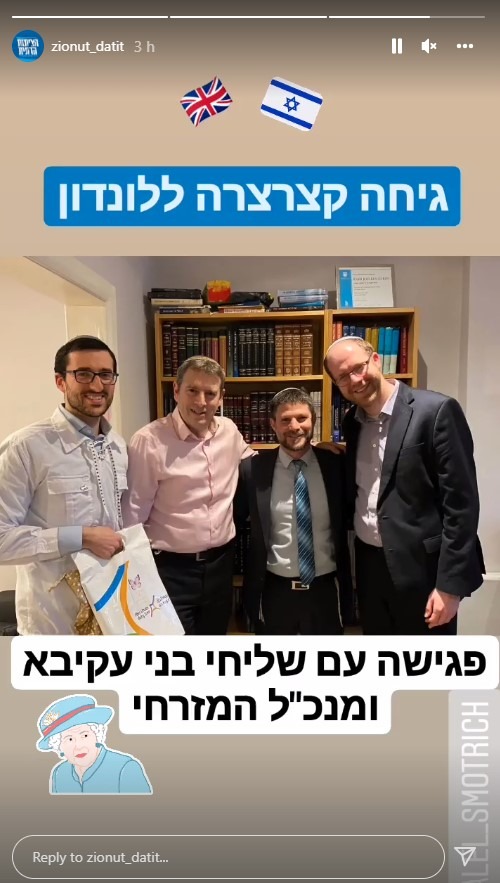 Smotrich in London with heads of Mizrachi and Bnei Akiva
The Zionist Federation condemned Smotrich, stating that his "far-right politics of hatred and division, whether the targets be the LGBTQ+ Community, Reform Jews or Arab-Israelis, have no place in this country nor in our community."
Yachad, which campaigns for a two-state solution for Israelis and Palestinians, said Smotrich "openly calls for ethnic cleansing" and "should not be made welcome by any individual or organisation in the Jewish community".
Smotrich has in the past opposed selling property to Arabs as well as demanding separate rooms for Jews and Arabs in hospitals. He has also spoken out against mixed marriages and against giving extra rights to LGBTQ individuals.
Smotrich has also made remarks describing progressive streams of Judaism as a "fake religion".
The MK did not respond directly to the opposition to his visit but tweeted later on Wednesday evening: "The entire UK Jewish community, I love you all!"
Follow VINnews for Breaking News Updates