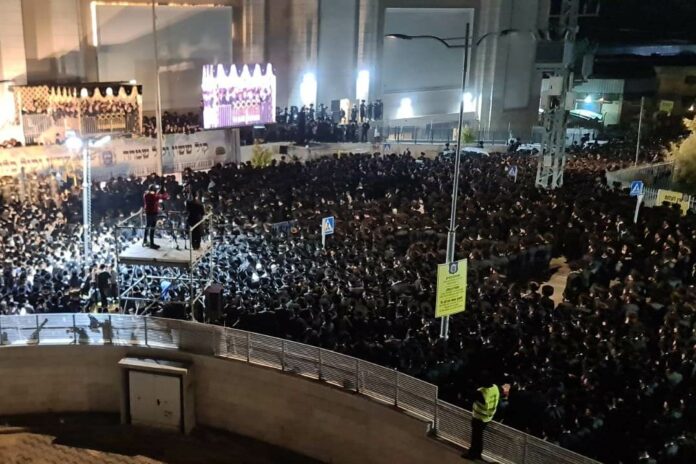 JERUSALEM (VINnews) — In a huge wedding which took place at the Design City mall complex in Mishor Adomim, the Boyaner Rebbe, together with thousands of chasidim and a gallery of Admorim and prominent rabbis, celebrated the wedding of his youngest son. The mall boasts large outdoor squares as well as an Italian-styled indoor piazza, and the chasidim used the former for the chupah and the latter for the celebrations afterwards.
Join our WhatsApp group
עוצמה של באיאן pic.twitter.com/KStVour3Sc

— משה ויסברג (@moshe_nayes) November 29, 2022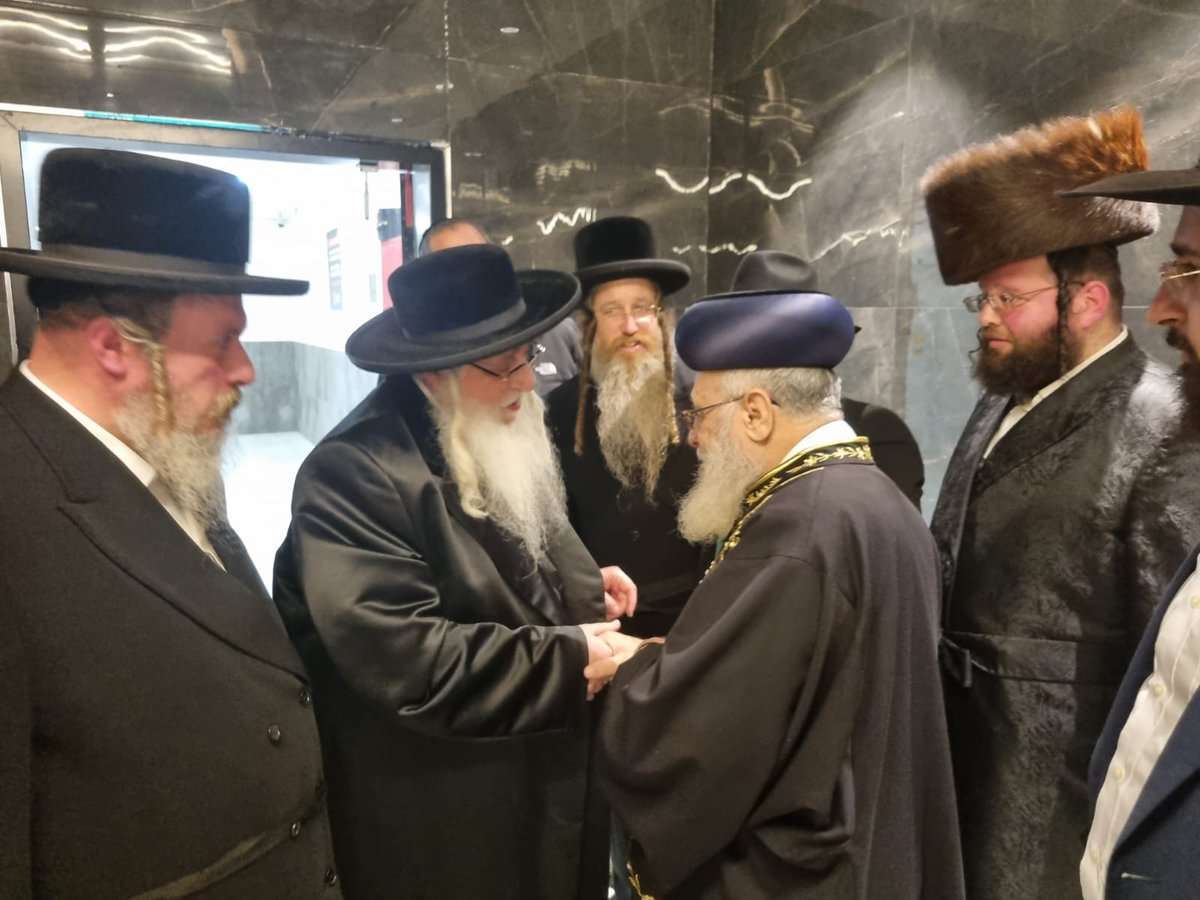 Tzanzer Rebbe with Rabbi Yitzchak Yosef
עוד סרטון מהחתונה הלילה במעלה אדומים: חסידי באיאן באורות בעת הריקוד של הרבי ובנו. pic.twitter.com/eJoeNFC6nr

— אריה ארליך A. Erlich (@AryeErlich) November 30, 2022
עוד סרטון מהחתונה הלילה במעלה אדומים: חסידי באיאן באורות בעת הריקוד של הרבי ובנו. pic.twitter.com/eJoeNFC6nr

— אריה ארליך A. Erlich (@AryeErlich) November 30, 2022
During the wedding,the chasidim expected the Rebbe to perform the Mitzvah Tantz with gramen [a poetic addition to the dancing rendered to music]. The rebbe requested his forgiveness and asked that the gramen should not be said and that only music would accompany the dancing.
One of the chasidim said that "the chasidic at first were disappointed that there was no gramen but when they saw the Rebbe dancing with the Kalla and then with his son with such joy they also rejoiced with him."
Participants in the simcha included the Admorim of Tzanz, Karlin Stolin, Rachamstrivka, Erloi, Sadigora, Kapitchnitz, Bohosh, Pinsk Karlin, Pittsburg, Mishkenos Haroim, Gerlitz, Skulen, Shomrei Emunim Yerushalayim, Trisk, Koznitz, Skulen Bnei Brak, and Tchortkov London.
The simcha was also attended by Rav Don Segal, Chief Rabbi Yitzchak Yosef, Rabbi Dovid Cohen rosh yeshiva of Hevrom, Rabbi Eliezer Yehuda Finkel rosh yeshiva of Mir, Jerusalem chief rabbi Shlomo Amar and Rabbi Yitzchak Dovid Grossman.
Follow VosIzNeias For Breaking News Updates