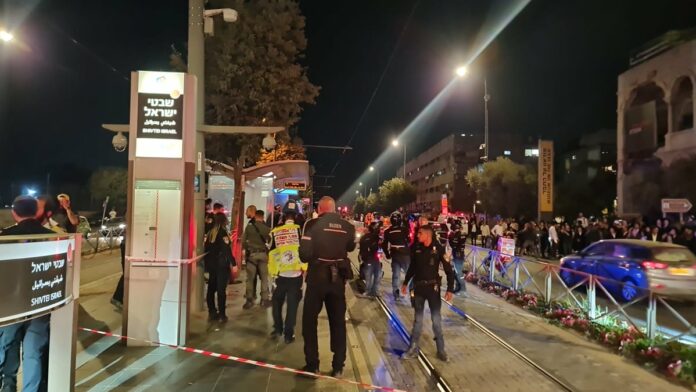 JERUSALEM (VINnews) — A 25-year-old man was moderately wounded Wednesday evening in a stabbing attack at the Shivtei Yisrael light-rail stop in Jerusalem. A Border Police officer at the scene managed to eliminate the terrorist at the train stop.
Eldad Bar Kochba who was at the scene said that "The terrorist took out a knife and lunged at someone. I ran towards him, gave him a kick in the face and knocked his knife away. Police came and succeeded in shooting him. He was a boy of 17-18 years old."
Police later reported that the terrorist was a 14-year-old resident of the Beit Hanina neighborhood in Jerusalem.
United Hatzalah volunteer physician Dr. Shlomo Gensler related: "I provided initial treatment to a man who was stabbed in his back, after which he was transported to Shaare Zedek hospital. His condition is currently defined as moderate and stable. Due to the nature of the incident, several people were treated by United Hatzalah's Psychotrauma and Crisis Response Unit."
MDA paramedics Elad Rozmarin and Sarah Kapah recounted: "When we arrived at the train station on Shimon Hatzadik Street, we saw a man of about 25 years old, fully conscious with stab wounds on his upper body. We administered life-saving treatment and  evacuated him to the hospital in moderate condition.
Follow VINnews for Breaking News Updates