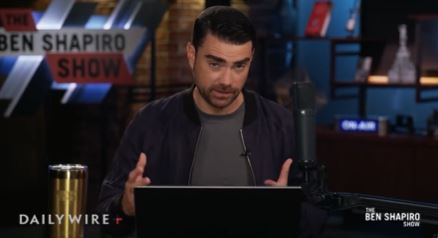 (VINnews) — The feud between Ben Shapiro, a frum Jew, and Candace Owens, who more than occasionally tows (and perhaps crosses) the antisemitic line, has escalated to a new level.
Shapiro, co-founder of the Daily Wire which employs Owens, replied to a tweet from Owens on Wednesday imploring her to "by all means quit" if she feels her work at the site "comes between" her and G-d — as Owens' tweet seemed to suggest.
That was the tame part. Then Owens quickly shot back, "You have been acting unprofessional and emotionally unhinged for weeks now."
She added: "You have been acting unprofessional and emotionally unhinged for weeks now. And we have all had to sit back and allow it and have all tried to exercise exceeding understanding for your raw emotion. But you cross a certain line when you come for scripture and read yourself into it," she added, concluding, "I will not tolerate it."
This is the latest round between the two popular conservative podcast hosts. On Tuesday, a clip surfaced of Shapiro calling Owen's comments "disgraceful."
Candace, if you feel that taking money from The Daily Wire somehow comes between you and God, by all means quit. https://t.co/qachKhAuHo

— Ben Shapiro (@benshapiro) November 15, 2023
Shapiro responds to a question about her and says, "I think that her faux sophistication on these particular issues has been ridiculous." He went on to call her commentary on Israel, which was riddled with errors, "disreputable."
Owens posted a message to Twitter in reply, quoting the New Testament, implying that if she promoted the viewpoints of Daily Wire (specifically regarding the Jews and Israel), she would be betraying her morality.
Shapiro replied to that tweet, "Candace, if you feel that taking money from The Daily Wire somehow comes between you and G-d, by all means quit."
LISTEN TO THE VIN PODCAST:

Follow VINnews for Breaking News Updates