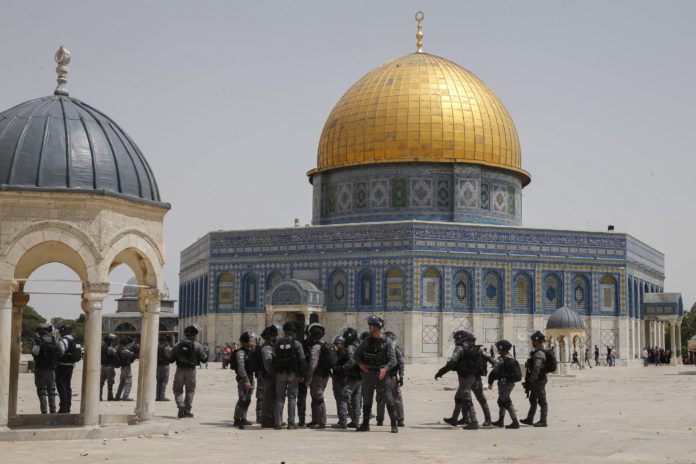 NEW YORK (VINNews) — Once again, the UN has exposed itself as a viciously biased group, whose primary mission is to target Israel and the Jews, while propping up Islamic terrorists.
The UN General Assembly passed an egregious resolution Wednesday by an overwhelming majority, completely denying any Jewish connection to the Har Habayis.
The "Jerusalem resolution" is part of a movement by the Palestinians and anti-Israel members of the UN to revise history and brand the Har Habayis exclusively Muslim. The wording references the site only by its Muslim name, al-Haram al-Sharif. It passed 129-11.
Hillel Neuer, executive director of UN Watch, said, "The UN's assault on Israel with a torrent of one-sided resolutions is surreal. It's absurd that in the year 2021, out of some 20 UN General Assembly resolutions that criticize countries, 70 percent are focused on one single country— Israel."
Neuer added that "the UN shows contempt for both Judaism and Christianity by adopting a resolution that makes no mention of the name Temple Mount, which is Judaism's holiest site, and which is sacred to all who venerate the Bible, in which the ancient Temple was of central importance."
The US opposed the resolution, in part because of the exclusion of Israel's right to the site, saying, "It is morally, historically and politically wrong for members of this body to support language that denies" other religions' connections to the site.
The UK abstained, with a British representative saying, "The resolution adopted today refers to the holy sites in Jerusalem in purely Islamic terms without recognizing the Jewish terminology of Temple Mount. 
"The UK has made clear for many years that we disagree with this approach…The UK has therefore moved our vote today from a 'yes' to an 'abstention.' If the unbalanced reference had been removed, the UK would have been ready and willing to vote 'yes'."
"This should not be misunderstood as a reflection of a change in UK policy toward Jerusalem. Instead, it is an important signal of our commitment to recognizing the history of Jerusalem to the three monotheistic religions," he said.
In 2018, a similar resolution passed 148-11. This time support decreased, with the number of countries that abstained increasing from 14 to 31, despite the fact that the phrase al-Haram al-Sharif was mentioned only once, whereas last time it was mentioned twice.
Three years ago, all the European countries voted in favor. However this time, Hungary and the Czech Republic opposed, while Albania, Bulgaria, Denmark, Germany, Lithuania, the Netherlands, Romania, Slovakia and Slovenia abstained.
Follow VosIzNeias For Breaking News Updates