COLLEYVILLE (VINnews) — Once again, the mainstream media has jumped to bogus conclusions and veered from the facts.
As the horrific terrorist attack and hostage situation unfolded at a reform synagogue in Colleyville, Texas, several large media outlets claimed that the terrorist is Muhammad Siddiqui, the brother of an Al Qaeda terrorist who is in prison on terror charges. Aafia Siddiqui is a Pakistani neuroscientist suspected of having ties to al-Qaeda, convicted of trying to kill U.S. military officers while in custody in Afghanistan.
ABC News, the Independent, and other news outlets, hastily determined, based on sketchy reports, that the synagogue terrorist was Dr. Muhammad Siddqui.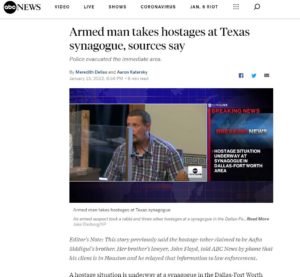 However, Muhammad's own lawyer, who works for the Houston chapter of the Council on American-Islamic Relations (CAIR-Houston), has released the following statement condemning the attack and proclaiming his client's innocence:
"We want to make it very well known that the hostage-taker is NOT Dr. Aafia Siddiqui's brother, who is not even in the same region where this horrible incident is taking place. We want the hostage-taker to know that Dr. Aafia Siddiqui and her family strongly condemn this act and do not stand by you. Dr. Aafia's family has always stood firm in advocating for the release of their sister from incarceration by legal and non-violent means only.
"This assailant has nothing to do with Dr. Aafia, her family, or the global campaign to get justice for Dr. Aafia. We want the assailant to know that his actions are wicked and directly undermine those of us who are seeking justice for Dr. Aafia. On behalf of the family and Dr. Aafia, we call on you to immediately release the hostages and turn yourself in. The CAIR-Houston office has represented Dr. Aafia's brother since 2004. We have confirmed that the family member being wrongly accused of this heinous act is not near the DFW Metro area. We call on the reporters that claimed this man to be a member of Dr. Aafia's family to correct their reports and issue an apology to the Siddiqui family."
It appears the basis for the false reports (most of which have been retracted) is the fact that the hostage-taker was heard demanding the release of Aafia Siddiqui. He also said he wanted to be able to speak with her, according to officials. The man, who used profanities, repeatedly mentioned his sister, according to the Star-Telegram.
Follow VosIzNeias For Breaking News Updates